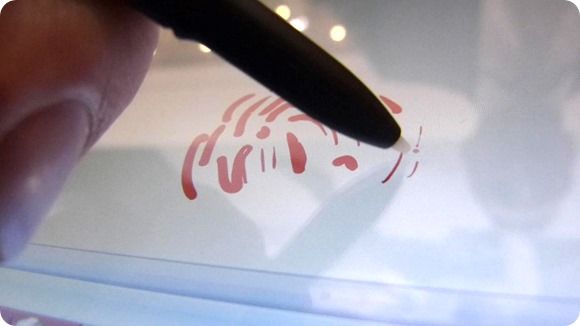 Fujitsu was the biggest promoters of Ultrabooks at CeBIT this year and although there were no new products announced they proved that there's still development and marketing going on. The Fujitsu Lifebook T904 is one of the most desirable business-focused Ultrabooks out there and with its Wacom digitizer, removable battery, docking port and fantastic screen it has features that many of us would love to have on lower cost devices. I took a closer look at the T904 and focus on the digitizer that many of you have asked me about. In short I can tell you that it's very responsive and would make an impressive tool for digital artists.
Edge performance, palm rejection, lag and pressure sensitivity was good and it resulted in a much more natural feel than with, for example, the ASUS Vivotab 8 although some may not like the thin stylus. You'll see a demo in the latter part of the video below.
The Lifebook T904 is what you might call a 'business project' product and won't be easily available through the normal retail channels although we've seen a few products being offered to consumers. The 1500 Euro pricing in Europe puts it out of reach of many but is going to satisfy those who can justify it.
We're planning to get this in for a big review soon but this video should answer most of your questions. If not, please leave a comment below.
)