It's going to be one crazy day for me on Wednesday. Two important events will take place that will give us a deeper understanding as to what's going to happen with Windows tablets this year. Intels IDF event takes place in China and later in the day Microsoft kick-off their BUILD developer event. I'll be covering them both.
Intel's China IDF is a two-day event that often brings us a few bits of interesting information. The keynotes are not livestreamed but we're likely to get a press release and see the PDFs for the technical sessions before the end of the day. What are we expecting? In terms of tablets most of the talk will be around low cost Android tablets but expect Windows and 2-in-1 Ultrabooks too. These two areas are very interesting for Asia. Taiwan will want to hear about low cost PC platforms with new features and we expect a new range of Baytrail CPUs (in T, M and D variants along with a new 'Entry' platform.)  We might hear about Realsense (3D cameras for preceptual computing) and maybe something about Broadwell. Broadwell is interesting for ultra mobile PC developments in 2015 as the Y-series versions (that's the really low-power versions) are likely to be focused around fanless designs. Finally, easy-to-build fanless Core tablets. Here are a couple of example sessions from IDF 14 China.
2014 Intel® Platform, Bay Trail-M/D: Platform Cost Reduction (including Back-to-School'14 Refresh Overview)

Designing Entry and Value Tablets Based on the Intel® Platform, Bay Trail – Entry

Delivering Compelling User Experiences on Intel® Platforms: Audio, Voice, Speech and Fingerprint Sensors and Biometric Authentication

Wireless Charging Solutions for 2015 Intel® Platforms

Android* Open Source Builds on Intel® Architecture: 01.org

Technology Insight: HTML5 – The Most Viable Path to Cross-Platform Computing
Later in the day, at 0830 in San Francisco, BUILD kicks off. It's a really critical one for Microsoft and the new CEO Satya Nadella. The three day event will be streamed too so get over to BUILD and plan your schedule.
Microsoft want to see 25 million tablets sold in 2014, apparently, which is a reasonable target. The tablets are selling very well and reviews are generally positive. Price discounts re going well. It looks like the Windows licensing cost is going down too.
As I looked through the Microsoft Store the other day I picked out a surprising number of new apps. The Store is growing and maturing and at BUILD  we'll see the first real moves towards unification of the Stores. For developers that changes the economics in a very positive way and for users there'll be many more reasons to run a Metro window snapped to the desktop. Looking at the BUILD session list there's a huge lean towards a single Store and it looks like the Windows XAML UI and WinJS is coming to Windows 8 Phone.
Come learn about the common XAML UI framework for Windows and Windows Phone.  This session will cover the common XAML APIs across Windows and Windows Phone, techniques and limitations when using common XAML to build experiences both Windows and Windows Phone as well as cover device-specific XAML APIs that enable device specific experiences.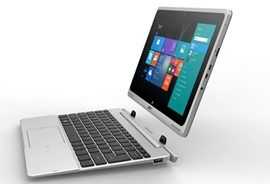 Presumably developers can now write to a single set of libraries that will work across Windows Phone 8 and Windows 8 (Store.) I doubt we'll see a single submission channel but you might see apps start to use a single payment option for both Phone and Windows 8 Store use. I bet we see a demo and get some hints on the timeline for  Store unification too. Developers – Are you interested in Windows 8 + Windows Phone development now?
Also at BUILD we're likely to see some form of new hardware. Maybe a new Surface but also quite likely is an official announcement by Acer that will show off their new W5 (or Switch 10) and W7 tablets. The full release is expected later in April.
Stay tuned for updates over the next days focusing on what the IDF and BUILD news means for dynamic PCs.