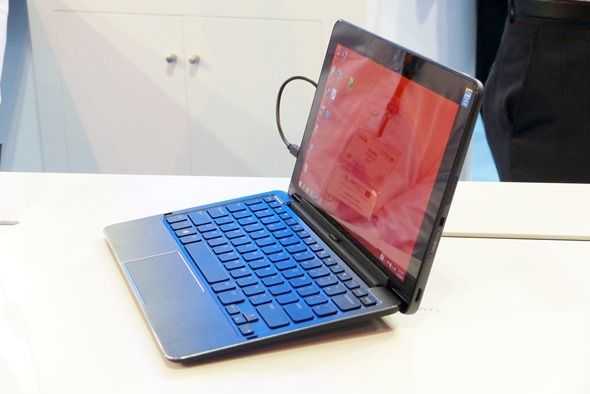 At MWC last week I had my first chance to go hands-on with the Dell Venue 11 Pro. Yes, it's been on sale for a while, I know, but it's one of the devices I just haven't got round to testing yet. I wish I had done this earlier because it's a nice bit of kit with an excellent keyboard. It feels high quality and the tablet isn't too heavy.  Video hands-on below.
The total battery capacity with the 'Tablet Keyboard – Mobile' unit docked is 60Wh which is huge for a Baytrail-T tablet. Yes, the weight suffers a bit because the keyboard weighs as much as the tablet but considering the battery life this setup will have (10-15 hours connected working time at least) it could be worth it. Leave the charger and USB power-pack at home because you can just use the Venue 11 to keep your smartphone topped up.
I didn't get a chance to check the pen out but I did take note that it had USB3.0 on board. That's useful for DisplayLink docking.
I don't see this being a cheap setup – the power keyboard costs $130 on its own – but it could be something that you could work with in most scenarios. What you might want to do though is wait to see if there's a 4GB version coming. That's the only specification that doesn't quite match pro-mobile requirements.
Video hands-on below.