The unboxing is below and the test is happening right now as I type this…
As I got close to finalizing V13 of the Ultra Mobile Reporting kit this week in preparation for CeBIT I realized I needed a new keyboard. The Bluetooth keyboard I was using as a test just wasn't good enough and the USB keyboard I have from an old Samsung Q1 Ultra was, well, USB, which  can be a problem when using a Windows tablet that only has one USB port. I chose the Microsoft Wedge keyboard after a few discussions and a test at a local store and the feature that sold it for me was the cover that turns into a tablet stand.
The unit weighs 443 grams (about 50:50 keyboard and stand) so isn't the lightest solution around but it's compact and looks like it's built to a very high standard. The materials are high-grade and the finishing is excellent.
Paring to a Windows 8.1 tablet was simple (done for the first time live in the video below) and setting up the stand is no problem with 8 or 10-inch tablets. It's nice and stable thanks to the rubberized finish. 12-inch tablets shouldn't be a problem either but I haven't tested anything that big yet.
According to the specifications the unit will last for 6 months on two AAA batteries and the specification sheet tells me that the keys are going to last forever. 5 million actuations!
What we really need to know though is how good it is for typing. Going back to a keyboard that has non-island keys is quite a change for me but by this point in the article I'm starting to feel confident and speeding up nicely. The feature keys on the top row give you direct access to Windows 8 search, share, devices and settings and there are media keys included too. The Fn key allows function key access.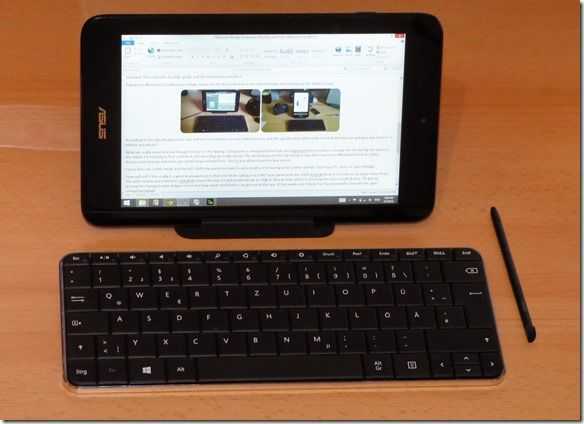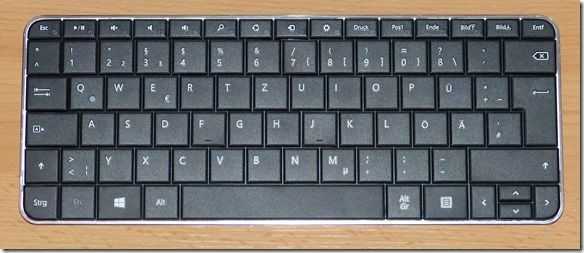 Cursor keys are a little small and the left-Shift (my preferred side) is also small so I'm having to be a little careful. I feel that I'll 'zone-in' soon though. Note that I have a German keyboard here.
Time will tell if this really is a good keyboard and to that end I'll be taking it to CeBIT next week with the ASUS Vivotab Note 8  in order to do some press-room testing. The video below was edited in Cyberlink Power Director 12 and rendered out at 720p in 2X real-time which is amazing for such a small device. I'll also be testing the Changers solar charger too to see how much work time I can get out of the sun. If that works out I think I've found myself a new off-the-grid, ultra mobile PC setup.