Schenker is a EU-wide brand selling mostly OED PCs. The Schenker Elements 10-inch tablet is their entry into the new Windows tablet market and we had some time to take a look at it in Hannover this week.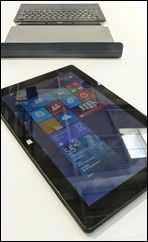 The Elements tablet is an out-and-out consumer play with price being the unique selling point – somewhat dangerous as ASUS and Lenovo are also in this segment and the leader of low-price computing solutions, Acer, entering the market soon with a 10-inch W5 update. At 350 Euro we're not convinced that this is going be a real hit.
Firstly you've got a 1280×800 screen which, although usable, is somewhat outdated in its pixel density. The rest of the specifications are as standard as all the others. A Baytrail Z3740 1.33Ghz unit powers the device and there's 2Gb of RAM and 32GB of storage.
A separate power port is nice to see, as is a mini HDMI port. The rear of the unit has a good rubberized feel and the build quality seems to be OK all-round.
If Schenker can offer this for 350 Euros with the keyboard-case then maybe there's a chance but the very popular ASUS Transformer T100 is  379 Euros with keyboard and Schenker want to start at 350 Euros without the keyboard. It's difficult to see this one being hugely popular unless they bundle the keyboard in at that price.
)