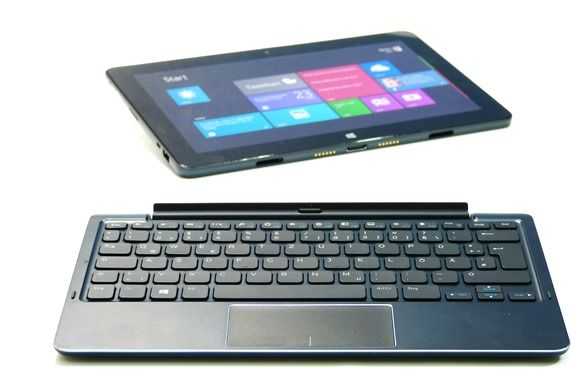 In our last review we looked at an 8-inch tablet running on the Atom Z3740 costing under $300. In this review we have the Dell Venue 11 Pro 10.8 inch tablet running the current high-end Z3770 CPU and costing $499. The powered keyboard is an additional accessory at $159. The two units are extremely well built but are they worth it? We take a look in our detailed Dell Venue 11 Pro  review.
Dell Venue 11 Pro Package Contents
Specifications, Images, links, videos, comments and more information can always be found through our database on the Dell Venue 11 Pro information page. A full gallery of our images can be found here. We have a new 64GB model here which comes with 2GB RAM, 32-bit Windows 8 Pro with the recent Windows 8.1 Update. We've also got the Dell Tablet Keyboard with integrated 30Wh battery.
CPU type: Intel Atom Z3770
CPU speed: 1460 Mhz (max 2.4Ghz)
Graphics: Intel HD Gen 7
OS: Windows 8.1 Pro Update (may vary in some regions)
Display: 10.8 inch 1920×1080 with Pen and 10-point capacitive touch.
RAM:2048 MB
Flash: 64 GB eMMC  (Samsung MCG8GC)
WiFi Dell Wireless 1538 802.11 a/g/n with Bluetooth 4.0
Battery capacity (measured by Windows powercfg:) 30Wh on tablet, 26Wh in Keyboard dock.
Weight: 762 grams tablet, 684 grams keyboard dock, 128gm power supply + cable.  (Total 1.57kg / 3.41 pound)
Ports: Tablet: Micro USB, Mini HDMI, Micro SD, USB3.0 (full size), headset, docking. Keyboard: MicroUSB charging.
Charger: MicroUSB, 5V, 2A out.
Other: Stereo Speakers. Array mic, removable battery,
Accelerometer, rotate lock, TPM module, NFC, 8Mp cam rear. 2Mp cam front.
Note: No GPS. Pen not included.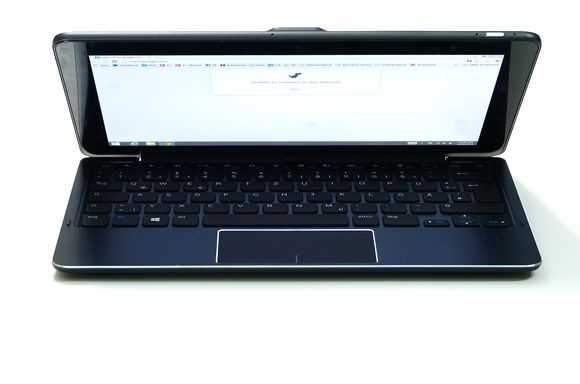 In the box you'll find the charger and charger cable. There's no Office Home and Student license installed on our review device but we understand that this is delivered with the device (model 5130) in the USA. You'll have to check locally for other regions.
Dell Venue 11 Pro unboxing and overview video.
Our unboxing and overview video is available here.
Build and ports
We're focusing on the Venue 11 Pro tablet in this section of the review and what a slick looking tablet it is. It's got the same all-black screen as the Venue 8 Pro and the rear is rubberized but it's not imprinted with a pattern as on the VP8. It feels solid which is a good thing but it feels a little heavier than most tablets. At 730 grams it's over 100 grams heavier than the Lenovo Miix 2 10 and 150 grams heavier than last years Acer W510. Why? Take a look at the back and you'll see why. That panel is removable and reveals a replaceable battery. The addition engineering and cell protection required for removable batteries is a 100 gram penalty. Remember that you've got a 10.8-inch screen here with a digitizer layer too.
There's a full-size USB3.0 port, a pin-removable MicroSD tray which keeps the smooth looks (and might even offer a bit of extra security against MicroSD card theft) dual-array mics, a Kensington lock (again, security), microUSB charging port (which means you can connect a USB3.0 docking station and charge at the same time) and a Mini (not micro) HDMI port.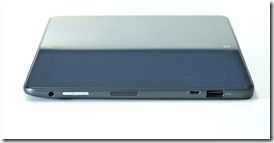 A full gallery of our images can be found here.
Fit and finish of the plastics around the device is very good although removal of the rear panel is not something you should note be doing too often in our opinion.
Highlight Features
The following key features are included in the Dell Venue 11 Pro
Connected standby (or InstantGo as it's now known) is a screen-off state similar to that on Android and IOS devices. Windows Store applications can remain active and connected while the tablet goes into low-power mode that can last for days.
Camera 8MP auto-focus rear camera and 2MP front camera.
Security: As with other Baytrail-T tablets there's full-disk Bitlocker encryption available when you use a Microsoft Live account to log into the device (Encryption keys are held in your MS account.) Secure boot is standard and we haven't yet investigated any boot/BIOS settings that might disable this. We have not checked the BIOS for user configurable Secure-Boot and password options.
Miracast: This wireless display technology is available in all the 8-inch Windows tablets and can be used to project a screen or extended screen in FullHD to a display with Miracast capability or an attached Miracast receiver. Demo video here. Miracast receivers can be bought for as low as $25 now.
Array Mics and Stereo Speakers.
USB3.0 port. The full-size port improves the ability to connect peripherals. We could not charge a Windows 8 tablet via this port but we could charge a Nokia Lumia 920, even in InstantGo mode. We suspect 500mA output on the USB3.0 port.
Removable battery. An additional 32Wh battery costs $79.99 at dell.com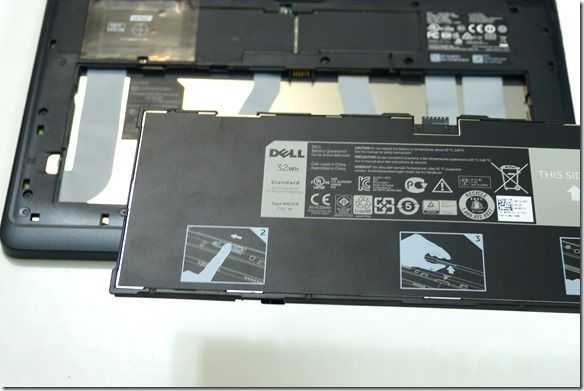 A full gallery of our images can be found here.
Two keyboard solutions exist as accessories. We're testing the powered keyboard option below.
Specifications, Images, links, videos, comments and more information can always be found through our database on the Dell Venue 11 Pro information page.
Screen
From the very top layer we have an anti-fingerprint coating, glass, a digitizer layer, a capacitive layer and then over 2 million high-contrast, wide viewing angle pixels backlit with a strong source. In short, it's excellent and in our opinion the colors are better than on the best-in-class for the 8-inch category – the Dell Venue 8 Pro.
Dell have tuned the Window and font sizes a little too large in our opinion but after we had re-tuned it via the Appearance and Personalization settings, we were much happier.
Viewing angles are excellent on the Dell Venue 11 Pro screen and it makes us long for a full-size SD card slot as this would make a great photographers preview screen.
Tablet Usability
You can't ignore it; This tablet weighs 760 grams /1.67 pounds and is not the sort of thing that feels comfortable after you've been handling a recent Android tablet or any sort of 8-inch tablet. In reality it's 20% heavier than a consumer tablet should be in 2014 and it's a trade-off you'll have to think about carefully because there are also a lot of positive things to say about it. We've already mentioned the screen quality but the processing power you've got is also significant. We'll go into more detail later in the review but in terms of performance-per-gram the Dell Venue 11 Pro with the Z3770 must be up there with the best. It's certainly one of the most powerful fanless tablets you can get for the weight. You've also got a USB3.0 port on board (yes it will charge a phone, but not most tablets.) mini-HDMI and the microSDXC card slot. Great speakers and the 8MP auto-focus camera add to the package.
Given that the tablet is a little heavier than it should be, why didn't Dell provide a kickstand? This is a set-up that the Dell Venue 11 Pro is perfect for as a video playback devices or 'PC' with a bluetooth keyboard and mouse setup.
Another quick work on performance here; The Baytrail Z3770 platform is a little faster (by about 10% overall) than the Z3740 used on the smaller tablets and combined with the SSD (eMMC-based. Performance report below) it works really well. If only there had been 4GB RAM. 2GB just feels wrong on a tablet of this quality.
We're testing the Dell Venue 11 Pro with the recent Windows 8.1 Pro update and everything is working smoothly. The Modern UI is smooth, games work well within that space and there's even little to complain about on the desktop side of things. Attaching the V11P to a Belkin USB3.0 display dock gave us a smooth, usable experience under browsing, writing and photo-management conditions and shows the difference a USB3.0 port can make when using a Displaylink type USB adaptor.
Camera
The rear 8MP camera is of good enough quality to be used to take pictures of documents or business cards that can then be converted into text using character recognition software. It's also good for snapshots but given the size and weight of the tablet we don't expect many people to be doing that. The front camera is good enough for 720p video conferencing.  Audio quality on videos is not high quality but there's a dual-array mic which is going to help provide better background noise limiting while conferencing.
Keyboard
The Dell Tablet Keyboard – Mobile is a 700 gram (measured weight) dockable unit that not only contains the keyboard and mouse but also contains a 24Wh (reported capacity) battery. It is not back-lit. There's a micro USB charging port but no data ports. A battery charging light shines on charging through either direct charging or via the tablet but only after the tablet battery has been fully charged first.
Functions keys are usefully reversed to provide Windows 8 volume, search, share, left-swipe, rights swipe, bottom swipe and menu, brightness and print rather than the default function-keys.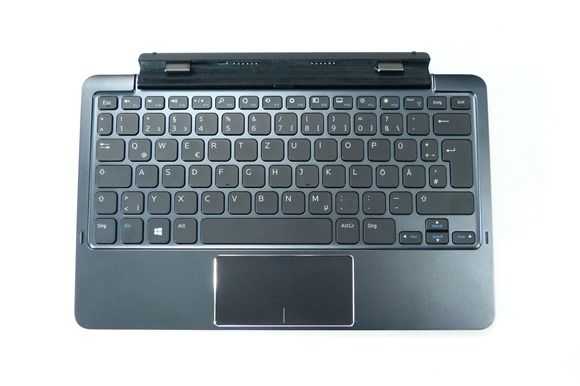 The strongly built unit has well constructed keys that feel good for typing and we felt confident enough with the keyboard to use it as the main keyboard and mouse when in extended screen mode with the external screen 'stacked' above the tablet screen.
The unit supplies power to the tablet via a docking connector and the battery appears as a second battery in the power meter. The keyboard battery is charged when the tablet battery charge reaches a level of about 80% in order to provide the fastest possible tablet charging and to preserve the tablet battery life by not charging it in the stressful last 20% of its design capacity. The keyboard battery is used in preference to the tablet battery if it's available.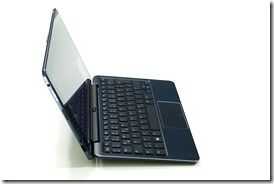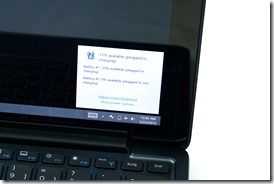 A full gallery of our images can be found here.

Specifications, Images, links, videos, comments and more information can always be found through our database on the Dell Venue 11 Pro information page.
Page 2: Performance, Battery Life  and summary on Page 2.
Pages: 1 2