At first I didn't understand how the service worked but after testing Flatster over the last week I'm enjoying it. I'm also convinced there's something new and interesting going on here. Legal MP3 downloads with no DRM for very little money.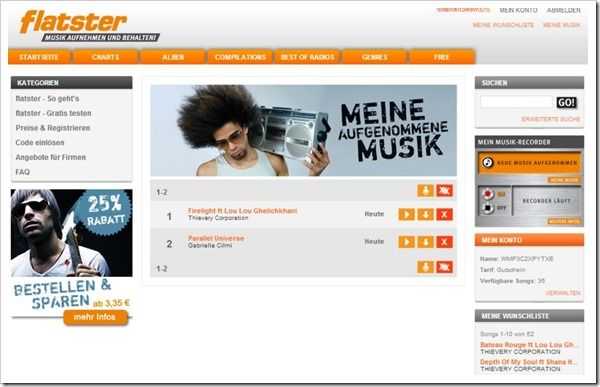 My testing started after I won 50 MP3 songs on a beer-bottle-top competition. The Warsteiner / Flatster promotion allowed me to log into the service and choose 50 songs. I won another, and then another and I've got a 250 song allowance right now which really isn't bad for a few beers!
You can't directly download songs from Flatster though and that's the interesting bit. You place a set of tracks in a wishlist and Flatster will then scan 'Web Radio' for them. When they are played it will 'record' them and offer them to you as an MP3 download. I queued-up 40 songs yesterday evening and this morning, 12 hours later, 13 were available for direct download. They're now sitting on my PC without any DRM restrictions. Update: 3 more arrived while writing this article. It's a bit like waiting for torrent or P2P downloads to finish which makes it quite fun. My daughter is testing and she's enjoying it too.
The interesting thing is that for 4.49 Euro you get a month of full access to the basic charts and a new album list. If you take a 6-month contract they will open up search functions, historical charts, genre and other features and drop the price to 7.99 per month.
I'm paying 9.99 on my Xbox Music account which gives me unlimited streaming but zero MP3 ownership. Flatster would give me the ability to simply 'buy' my MP3s like I used to – a model I prefer because it gives you ongoing ownership.
Of course you can't just download a track, album or top-10 list and for 4.49 you don't get any search features.
There's a question over quality. Does Flatster really record the 'Web Radio' (which isn't defined on Flatster as far as I can see.) I don't think so. The quality of tracks I'm getting is certainly good enough for my uses. I imagine one could use a 'cloud match' services from Apple, Google or Microsoft to fix any poor quality tracks if they occured. Tracks are full length too so I suspect that Flatster are doing their own 'matching.' by simply detecting that a song was played and then offering it for download.
Is it legal? I'm not sure. It's offered in Germany though which is a country that's notoriously strict on performers rights and content licensing. One imagines that Flatster must have done their homework but it's a model that appears to rely on others paying for streaming rights and therefore may face challenges in the future.
One other question remains and that's the question of being able to get music that's not usually featured on web radio. How long is it going to take to complete a full wishlist? I'm still testing this but I don't expect to get everything that's on my list. Is a one-month subscription enough to get most of what you want? Flatster are offering pre-paid 50, 100 and 250 song three-month contracts though and the price of 6.99 for 50 songs isn't bad.
Testing continues but at this stage it's impressed me enough to write about it. It looks great for students, for those more interested in owning MP3s rather than streaming them and for party-makers wanting to grab 50 or 100 tracks for a house party.
Flatster.com is based out of Cologne, Germany and the service is only offered in Germany at this stage.