32GB SSDs are popular on some of the lower-cost Windows 8 tablets and 2-in-1's and the new wave of $200-$250 netbooks and laptops but after the operating system is installed and the device is updated that 32GB partition can leave just 10GB free. As time goes by, increasing storage usage will eventually leave you with an unusable Windows 8 PC. To make that space more manageable there are things you can do to increase the capacity and to reduce the rate at which that space is used. Please also note that there is an important security-related caveat.
Overview
Remove the recovery partition
Install a MicroSD card for file saving and Skydrive offline files. (Note security info below.)
Save images, documents and music to MicroSD by default
Save files to Sykdrive and sync to MicroSD card
Clean the drive of unwanted temporary files.
Remove unwanted programs
Security Note
By moving files to a MicroSD card you remove any password or login protection on those files. If your device is lost or stolen, any data on the MicroSD card is readable. For users with Windows 8 Pro, Bitlocker can be used to secure those files. The standard disk encryption feature in the basic Windows 8 build with Windows 8 tablets (InstantGo-enabled) will only encrypt the main drive.
Remove recovery partition.
Use the Windows 8 'Create a recovery drive' function to create a back-up of the recovery partition and at the end of that process, confirm to delete the recovery partition. To access the function, press [Windows-Key] and [S] and type "create". Select ''Create a recovery drive" and continue with the helper. You'll need an unused USB stick of 8GB or more. At the end of the helper you'll see an option to delete the recovery partition. Select this option and the recovery partition will be deleted to save 4-5GB of space.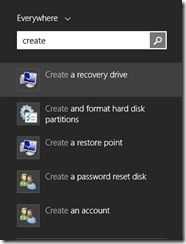 Keep the USB stick safe and remember that it will only work as a restore drive with the device that you created it from (although you can use it as a boot drive for any Windows 8 PC.)
Install a MicroSD card
Take advantage of removable storage buy installing a MicroSD card. We recommend 32GB as a minimum for long-term usage and look for a Class 10 MicroSDHC card or, if your device supports it, a MicroSDXC card.
Install a MicroSD card into your Windows 8 device and format it as NTFS by right clicking on the drive in your File Explorer and selecting Format. Be careful to only format the MicroSD card!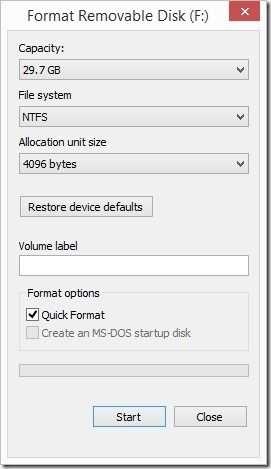 Change default location for saved files.
After installing the MicroSD card it makes sense to set it up as integrated storage space by using the Windows 8.1 option to store all user files on that removable drive. (Under PC and Devices in the Windows 8 system settings.)

Save documents to SkyDrive.
An alternative to storing saved files to MicroSD is to store them to Skydrive.

If using SkyDrive / OneDrive do not choose the option to have all stored files available when offline as this takes up space on the main drive.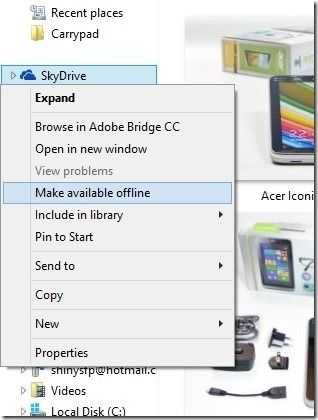 Move Onedrive/Skydrive cache folder to the MicroSD
If you wish to have SkyDrive files saved for offline use then add a MicroSD card, make a folder called Skydrive and Move the location of the Skydrive folder.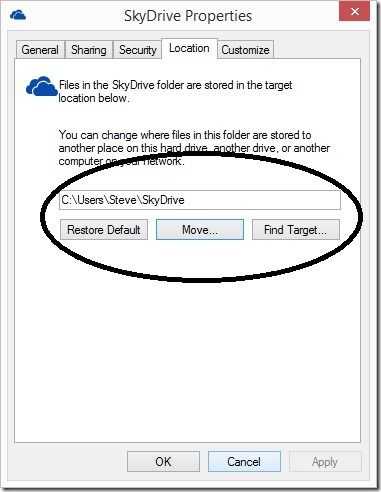 Change default location for downloads
By using the same method as for the SkyDrive / OneDrive folder the location of downloads can be changed. Move the download folder onto the MicroSD card.
Clean your drive
Care must be taken with installs and the drive must be regularly cleaned using the disk tools provided.
To access the Windows 8 disk cleaning tools right click on the drive in the explorer window and select Properties. From there, select Disk Cleanup.

After a short while the cleanup process shows a list of file types that can be deleted and their respective total sizes. There's also an option to Clean up system files. Click that button and wait for the analysis to complete.

In the resulting tablet you can select all the options and it won't affect the current running state of the PC. It will affect some Recycle Bin contents that could have been restored, some debug files, log files and other potentially useful files. If you have selected your files you can proceed to delete them by clicking on OK.
Remove unwanted programs
There's another option in this window called 'More Options' Clicking through and selecting Programs and Features tells you which Windows desktop applications are taking the most space. If there are programs you aren't using any more it's always good to remove them (for space and security reasons.) You can also access this feature through the ribbon bar in file explorer under 'This PC'. Select 'Uninstall or change a program.'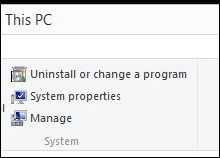 Finally you'll want to see how much space the Windows Store apps are using. You do that by pressing [Windows Key] and [S] or by going to the search bar and typing "App Sizes."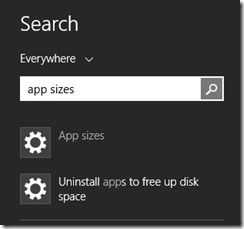 ]
Given that the Windows Store apps are relatively small it's unlikely you'll find anything huge in that list unless you've installed graphics intensive games or some other advanced software. Select any programs you want to delete. You can also do this by right-clicking on the program in the Start screen.
Tip: Use the Windows 8 TreeSize Touch app to track down large files.
Finally you might want to look for large files you've downloaded or that haven't been detected by the other methods. Take a look at Windows TreeSize Touch where you'll be able to track down any large files. E.g. Movies and videos, large downloaded zip files etc. There's also a way to do this in the file explorer by selecting ''the 'Search Documents' field and adjusting the Search Tools.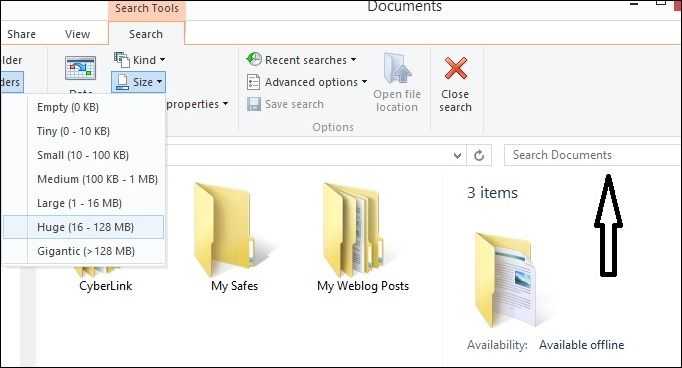 Do you have any other ideas for saving space on a 32GB drive?
Why aren't these space-saving features enabled by default on Windows 8.1?
Preserving disk space on a 32GB Windows 8.1 device is not easy at all and Microsoft need to offer better tools for this. Ideally they would be located under the Modern UI. Even simple things like automating the view of directory sizes would be helpful. We have heard that the Windows 8.1 Update will enable to OS to run in 1GB of RAM and 16GB of storage so we look forward to seeing just how Microsoft have achieved that and whether options will be available for existing users to reduce their main drive usage.
---
Video: Saving recovery partition to external hard drive.