Following recent hints that new versions of the Baytrail-M processors would be launched Intel have confirmed by publishing details of the new student-focused platform ahead of IDF. It's called BTS'14 and it's aimed at lowering the cost of Android and Windows tablet and 2-in-1 products.
A number of Pentium N3000 CPUs will be launched which include improved CPU and GPU frequency over previous Baytrail-M parts and support for Intel Quick Sync, the hardware video encoder usable through the Intel Media SDK. A set of Celeron N2000-series CPUs will also feature Intel Quick Sync support, increased memory speed over previous models and in some cases a CPU clock boost.
CPUs known to be under the new BTS'14 banner are:
Intel Pentium N3530 processor. 2.17Ghz-2.58Ghz. GPU 896Mhz. 7.5W TDP
Intel Celeron N2830 processor. 2.17Ghz-2.42Ghz. GPU 750Mhz. 7.5W TDP
Intel Celeron N2930 processor, 1.83Ghz-2.16Ghz. GPU 854Mhz. 7.5W TDP
Intel Celeron N2807 processor. 1.58Ghz-2.16Ghz. GPU 750Mhz. 4.3W TDP
Support is also being added for lower-cost eMMC SSDs and SDIO-connected WiFi modules.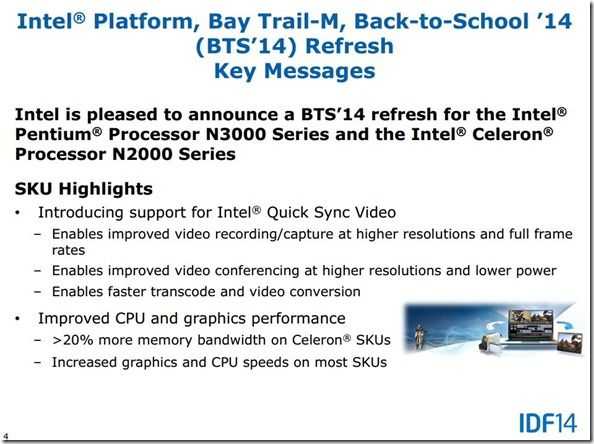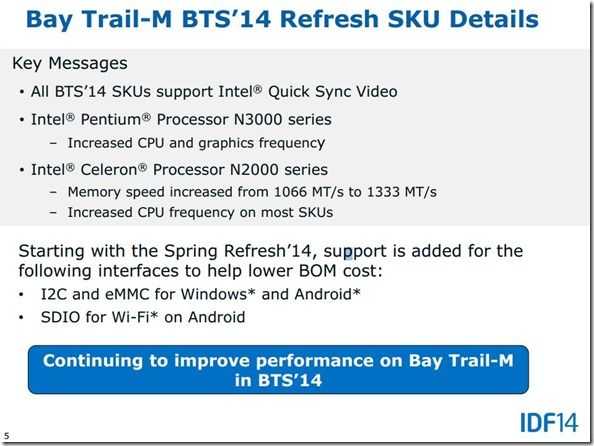 BTS'14 aims to lower the number of components used in a PC build and therefore to lower the cost of a PC design. A proof-of-concept design has been made, along with a white paper for NDA holders. No target pricing was given but at the last IDF Intel talked about the $399 detachable. One can only assume that the price target is lower now. This slide shows the specifications of the fanless 11.6-inch Android tablet concept.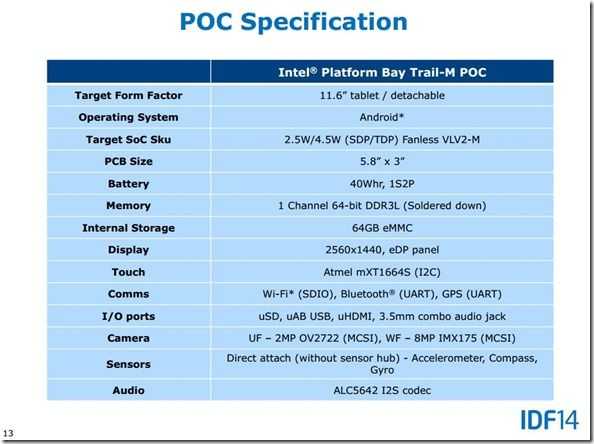 Looking at the 11.6-inch Android tablet specification above one can't help thinking that Dual-OS and a keyboard dock is involved somewhere.
Source: IDF Session presentations.