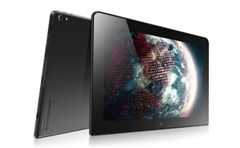 Miix 2 8 and Miix 2 10, Thinkpad 8 and Thinkpad 10. It makes sense, right? The Thinkpad 10 is due to launch next month if the news is correct. Expect something to challenge the HP Elitepad 1000 and Fujitsu Q584 and something that could have all the great qualities we've already seen on the Thinkpad 8 but with more processing power, more RAM, an optional keyboard and a lot of business options. Yes, pricing is going to be on the high side but if they can engineer something lighter than the competition, this could be the one.
The Lenovo Thinkpad 10 news comes via Tabtech.de who have picked the news up from the forums over at TabletPCReview where multiple references have been obtained. How about this, found at a reseller website:
Lenovo ThinkPad Tablet 10 (20C1000M) 10.1″ FHD, Intel Atom Z3795 1.6GHz, 4GB RAM, 128GB Flash, Integrated Graphics, 802.11 abgn / BT 4.0/3G LTE, fingerprint, Micro SD, SmartCard, Digitizer + Pen, W8.1 PRO 32.
Apparently the WWAN, smartcard reader and fingerprint reader will be options but no-one is really sure at this stage. The Win8.1 32-bit OS looks strange considering the Elitepad 1000 runs 64-bit on the same CPU.
The Z3795 on 64-bit Windows with 4GB RAM should turn in some nice performance figures. With a clock that's running from 1.6-2.4Ghz it should beat the Baytrail version of the Z3770 that we're testing in the Dell Venue 11 Pro right now.
It's great to see some competition in the 10-inch tablet space but as many people in the forum thread are highlighting, even the Thinkpad 8 is not generally available yet. The Thinkpad 10 could go to special project requirements first before you see it in the reseller channels. We'll see what we can do to get some more information over the next weeks.
Source:TabletPCReview
Via: Tabtech.de