The Internet of Things (IoT) is not something we really cover here because most of the hardware you'll find is headless – that is it doesn't have any way to drive a screen. Take the Intel Edison board for example; It's tiny, but runs using Intel Quark which doesn't have a GPU. That's not much good for display-oriented personal computing. The Minnowboard Max, however, runs an Atom (latest generation Baytrail-I series) E3815 single core at 1.46Ghz or (for dual-core 1.33 Ghz operation) the Atom E3825. Both have a GPU and HDMI on-board. The 'open-hardware' product, including memory but not including storage, starts at $99 making it perfect for project-based ultra-mobile computing.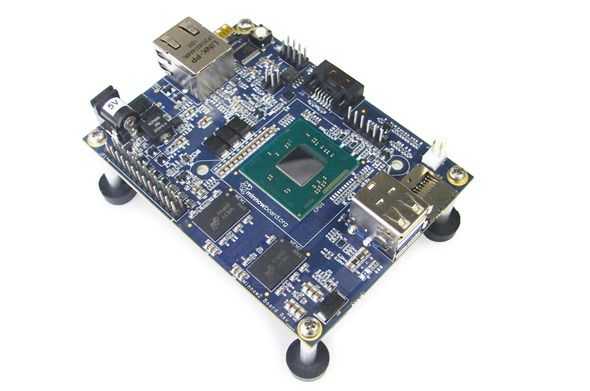 A pre-production prototype of the MinnowBoard Max.
This is not a system you'll be running Windows on as it's not strictly a PC but Android 4.4, Debian and Yocto builds are going to be made available.
MinnowBoard MAX is a compact, affordable, and powerful development board for both professionals and makers. The open hardware design allows for endless customization and integration potential. It is a platform with diverse strengths that will empower developers to innovate in the deeply embedded market.
The product was announced at EE Live yesterday, is planned to be available in June and you can find out more information here.
In related news, it looks like Edison has been re-designed to run using Atom so maybe it will have a GPU after-all. We'll keep an eye out for further information for you.