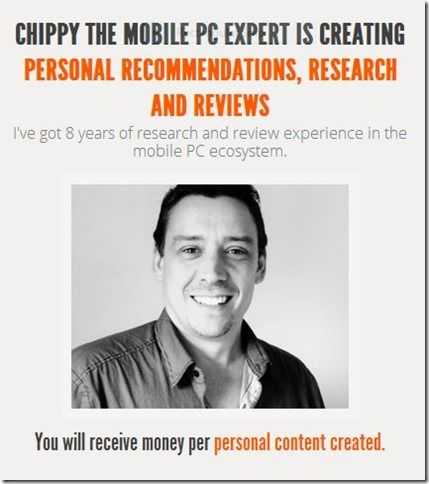 As YouTube and display ad revenues fall, the business plan for an independent content creator becomes more and more difficult. Over 8 years I've created content around mobile PCs and follow a start-up phase funded party by the German state, everything has been organically funded.
The ad revenue problem is there because we're not talking about a hobby business anymore and, as with everything, it reaches an equilibrium where business becomes just as hard as it should be. In the early years we could always relay on 'break-out' content to keep the finds flowing but now I need to change the way my content is financially supported.
The good thing is that ad rates are up on a per view basis and that's because I work in a very niche segment. When the right ads reach my site, they product excellent results. Over the years those results have led to better ad auction rates and confidence by ad agencies to run campaigns on the site.
That confidence has spread to brands too. I've worked together with VIA, Intel and a few others over the years to bring direct advertising and really well targeted sponsored content to my readers. Sponsored content is going to play a bigger role in the future but more is needed so I've been looking at Patreon as a way to fund 'partially private content.'
Patreon is a site/service where you can offer either regular or tiered-level projects to people that directly support it via contributions. I've been watching it for some months and had three attempts at  creating a plan there. In my third attempt I realized that the Patreon ecosystem really makes you focus on a core business plan and you need to have that in place before you approach a Patreon set-up. I've got pages of notes containing targets, ideas, offers and focal-points which is a great start for me and when I've finally completed my business plan I'll open a Patreon page and it will become my first personal payment channel for partially private content.
It will support fan contributions for free content, of course, but I don't see it doing that long-term. The main aim of my Patreon page will be to create additional, pay-for content packages that allow you to quickly and easily tap my knowledge, get some research done or even get a review done.
It will take time to work it out and I don't expect to get it right first-time but for the time being, Patreon has done a good job of focusing my business plan for an independent and sustainable future.
Patreon is here.
Hat-tip to Tom Foremski who's post inspired me to write this.