I'd like to highlight this very interesting presentation given at IDF Shenzen because it covers all the important elements that USB3.1 is going to bring to PCs. It's not just about the Type-C reversible connector because it includes power delivery, higher speed and an AV class of connectivity.
For years we've been using USB as a peripheral bus and in the mobile PC community it's become one of the most useful single-cable data connections. Through technology from companies like DisplayLink we've also been able to connect 1080p screens and through adaptors we've been able to connect to Gigabit Ethernet, SSD drives and all the usual keyboard, mouse, USB and audio components. Since last year I've been testing a Belikin single-cable USB Display Dock that's now become a permanent fixture in my two office locations. Transparent, easy, fast. USB3.1 is going to offer features that make that single cable dock even better. [Video below.]
Let's start with the new USB3.-1 type-C connector. It's smaller and easier to use. Because it's small it helps thin PC designs and because it's pluggable in any orientation there's no more of that three-attempt craziness. It also supports power charging. Yes, power over USB up to 100W which means true single-cable docking. The Type-C connector has so many advantages that it has every chance of being rolled-out quickly and that means great opportunities for modular, Windows-based ultra-mobile PCs in 2015, assuming the next-gen Intel platform supports it. How about a lightweight power-delivering CPU-less notebook dock?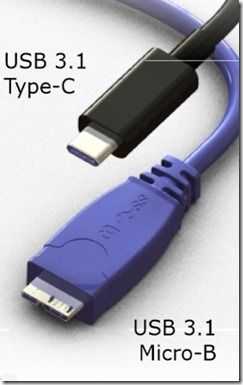 Renderings of a Foxconn design shown.
There's improved electromagnetic and RF mitigation and Gen2 10Gbos capabilities built-in to the new cables and connectors and docking support using the power-delivery (PD) interface option.
PD is something we've had demonstrations of before and we had hope that something would happen in 2013 but as we enter Q2 of 2014 we're still not seeing it in products. The power-delivery standard allows up to 100W which is way more than your mobile PC is going to need in a docked scenario.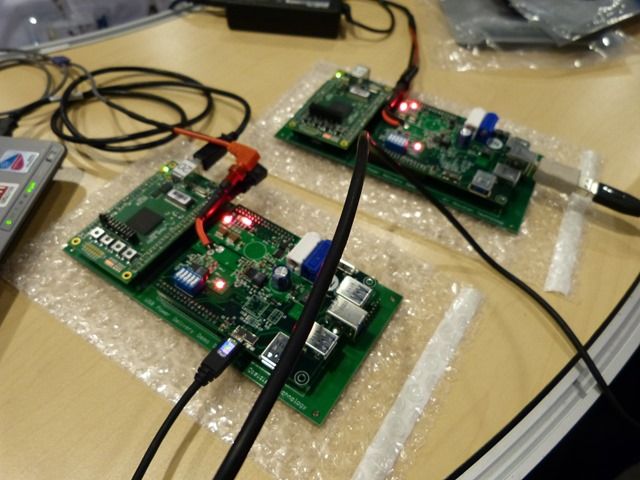 At least the new USB power icons have been approved:

Finally there's a new AV class of USB connectivity which supports high-definition displays and HDCP.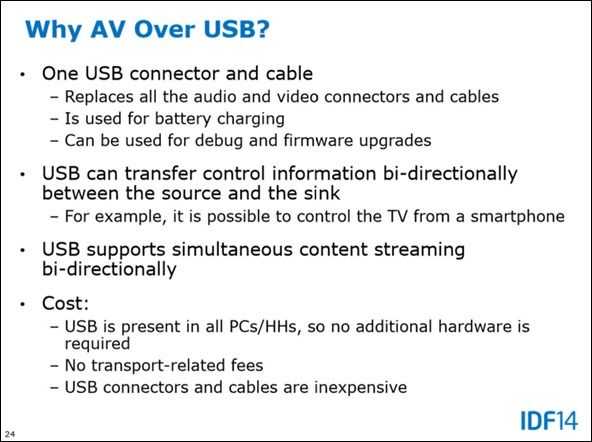 We're currently trying to find out if this is a formalization of DisplayLink IP into the new AV standard. As yet there doesn't seem to be much detailed information about where the conversion technology is coming from. We've got a call out to DisplayLink on this.
Timescales for products are still a bit in the air but the final USB 3.1 specification review has been completed and the final specification is due to be published in the middle of this year.
Finally, here's a test I did with the Belkin USB 3.0 dock which shows the need for USB Power Delivery.
Source: Intel PDF