Envy, Split, Pavilion. Unlike my fairly clear understanding of the Dell and Lenovo consumer/business product ranges my understanding of HP's is spotty. Is it just me? When our reader Brad Heath sent me a link to his Pavilion 11 X2 video I was surprised to see a Core i5 version on display and a quick search reveals that it's new on the market and being offered for just $599 in the USA. Like the Dell Venue 11 Pro series it could offer a perfect balance between laptop and tablet if your primary focus is on productivity. There's a true SATA SSD, Core i5-4202Y (1.6Ghz + Turbo) and the total weight is under 1.5KG 3/5 pounds. Price: $599 at Microsoft.com which makes it extremely interesting.  [Full specs here.]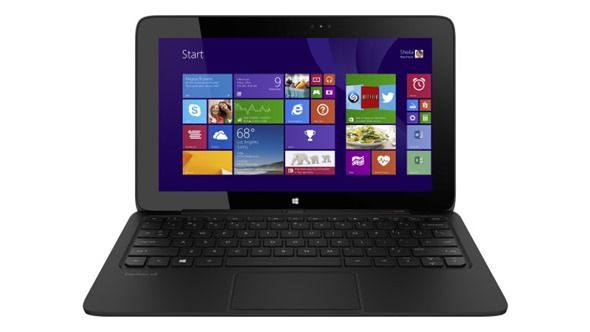 First question from me is "How's the noise?" These Core devices have fans (something that Broadwell, the next generation, could fix) and I recall that a lot of reviews of the Dell Venue 11 Pro with Core had problems with that. You really don't want a fan or excessive heat on a tablet so I've asked Brad for a bit more information on this topic. [I'll update this section with his response.]
Second question is about battery life. There's a very small 28Wh battery in the unit (probably to keep weight down) but there's another 22Wh in the dock which will give you a total of 50Wh. That's a respectable, if not good battery capacity and it should turn in 8hrs of web work depending on screen brightness used.
There are no comms ports on the tablet (apart from the docking port) which again could be helping to keep the weight down. Every ounce is touch when you're designing with a Core tablet. Brad says that he's happy with the keyboard and really likes the touchpad. He's got the Dell Venue 11 Pro as a comparison and you'll see that in the video below.
It's interesting to see the screens ability to angle back further than the Dell because it's an important ergonomic consideration but although it's an IPS unit it's only got 1366×768 resolution. That's the stinger in the specification list!
In summary we've got a lightweight 2-in-1 Ultrabook here with a full-capability SSD, touch, 4GB RAM for just $599, if you can find the HP Pavilion 11-h112nr x2 in stock at Microsoft. In Germany it's called the HP Pro 410 G1 where it's available for a shocking 960 Euro! A Core i3 version is also being produced but we can't find a dollar price for that.
Take a look at Brad's video. He's just starting with his online channels (e.g. @bradheath) but I think you'll agree he's got some useful knowledge. We look forward to more.