For the purposes of creating an exciting project for myself and something different than 8-inch Windows tablets for the readers I've bought an Intel NUC. The Intel Next Unit of Computing is now in its second generation and this Baytrail-M powered (N2820) version has been chosen for a number of reasons. Firstly, Intel are building Android X86 for it (and KitKat has already booted and installed without a problem,) it's new and finally, I'd like to see just how Baytail perfroms in real-world scenarios with a very fast SSD – something we can't do on the Baytrail-T platform.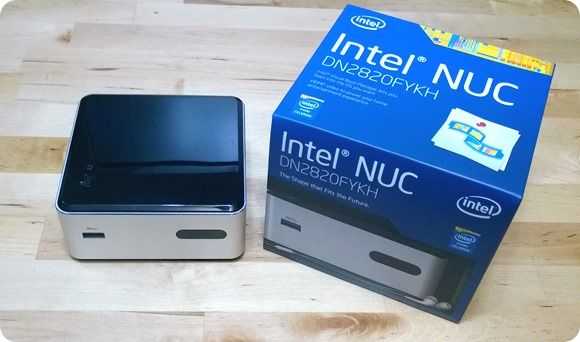 The Intel Celeron N2820 is a dual-core (no hyperthreading) 2.13 – 2.39 Ghz processor based around the Silvermont CPU you find in all 'Baytrail' variants. It's a 7.5W TDP SoC with 64-bit architechture that can handle  a useful 8GB of DDR3L-1066 memory. HD graphics (gen 7) up to 756Mhz clock, USB3.0 and SATA storage interface make it more flexible than any Baytrail-T platform although you won't get, in this N2820 version, high-end Quick-Sync performance. [The new versions of this product will have an N2830 that supports Quick Sync. If you can find one, it's better than the N2820 version.
The box itself is mainly aluminum with a plastic top and bottom. Inside you'll find a SATA interface and 2.5" 9mm drive bay, one RAM slot and a PCIe slot that contains an Intel WiFi module. There is one front-facing USB3.0 port, two USB2.0 ports, audio port, HDMI port, power port and a Gig-E port. Also on the device is an IR receiver which is obviously intended for home theatre usage. A VESA mount is also provided…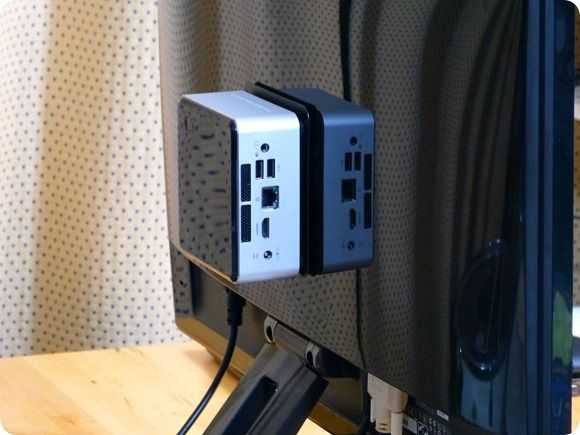 Memory choices for the DN2820FYKH
You'll see in the video below that my first attempt at boot-up resulted in no response. I thought the unit was dead until I tried a third, newer stick of memory. I'm currently using a 2GB module from Kingston. (ACR16D3LS1NGG/2G.) Intel have published a list of working memory modules here.
Visual BIOS
Intel's Visual BIOS is a much, much easier way to handle BIOS settings. It's mouse-controlled, interactive, live and far more useful than the old BIOS setup systems of old. Current fan speeds, voltages and temperatures can be seen and there's a lot that can be configured over and above the boot-sequence order. There's even a built-in screenshot facility. More time is needed with this before I can report in detail on Visual BIOS but I'm already hoping to see it on more PCs in the future.
OS testing.
As a quick-start route into OS testing I've already installed Android KitKat from the Intel Android site 01.org. Latest downloads are available here. I tested a 28 April 2014 release of Android 4.4 ( android-4.4.2_r1-ia2 – Bat Trail generic.) which booted from a USB stick without any modifications to the BIOS. Installation onto the hard disk was simple.
This build is a raw Android open-source image without any Google services but after installing the Amazon store I was able to test Facebook, Twitter and a few other apps.
Android 4.4 on Celeron N2820 NUC performance.
After installing the above Android KitKat build on the SSD I ran a series of tests. Here are the results. [Windows 8.1 is being installed as I write this. Watch out for a follow-up post.]
Sunspider : 1.01: 520
Quadrant : 5544
3DMark Ice Storm Unlimited : 13214
3DMark Ice Storm Extreme : 7504
3DMark Ice Storm : Maxed Out.
Linpack : 167.667 MFLOPS
Fan Noise.
In normal operation this mini-PC is very quiet. The fan runs at about 3000 RPM under zero load. After 3DMark IceStorm tests were run fan noise was audible with air rush and mechanical hum. This level of noise is, in my opinon, not acceptable for a home office when the unit is positioned on the desk. Under a desk or at home TV viewing distances this (max) level of noise should not be an issue. In the current test setup an Acer V5 laptop, next to the NUC, is creating more noise than the NUC.
Full image gallery.
A gallery of various images is available here. It includes internal close-ups and some images of Android 4.4 running.
Intel NUC (DN2820FYKH, Celeron N2820) Video
Further Testing.
This report is based on the first 12 hours of testing with the Intel NUC. Windows is being installed as this is being written and a follow-up post with Windows performance test results will come within 24 hours. This report will include information on the consumer IR receiver.
What would you like to see tested? XBMC? Games? What video demo's would you like?