There'll be a 4GB option too! Lenovo have launched the Thinkpad 10 along with a number of accessories. Based on the Intel Baytrail-T Z3795 the Thinkpad has almost all the specifications you could wish for. It's targeted at the mobile workforce but the for ultra-mobile PCs fans this 60 gram, (1.31 pounds) PC is one to take a close look at.
The Thinkpad 10 is shown above with the Ultrabook' keyboard, a $129 accessory that we don't think has a battery inside but looks to offer a high quality working area. There's a dock available too. (UBS 3.0 we believe) The digitizer is said to be optional so expect something in the region of $100 for that and the digitizer pen. 128GB and 4GB could take prices very high too. A fully loaded Windos 8.1 Pro model with Ultrabook keyboard is likely to be around $1000 but it could be the only PC some people will need. At under 600 grams it's going to be a lot lighter than the Dell Venue 11 Pro (Baytrail) which is very important for a tablet. It will be fanless and with the USB3.0 port, microHDMI and separate charging port, very flexible in terms of connectivity and usage.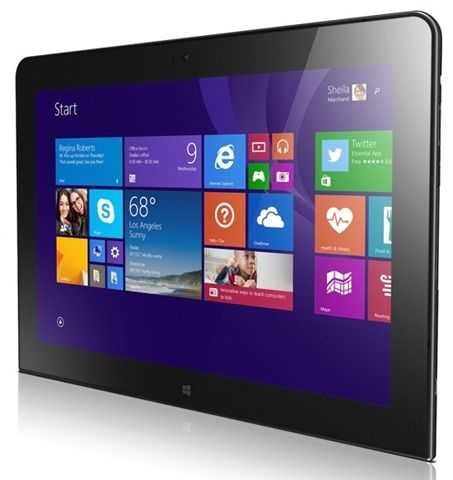 Lenovo Thinkpad 10 specifications.
CPU: Intel Baytrail-T Z3795 (1.6Ghz – 2.4Ghz)
10.1? 1920×1200 screen
2/4GB RAM
64/128GB emmc Flash
802.11 abgn / BT 4.0/3G
8MP rear camers. 2MP front camera.
Micro SD, full USB3.0, MicroHDMI, audio port.
Options: 3G/4G, digitizer, Windows 8 Pro.
Like all Windows 8 tablets on Baytrail it will have a TPM module inside, will support basic Bitlocker disk encryption, support InstantGo and, with the Windows 8 version, will come with free Microsoft Office Home and Student.