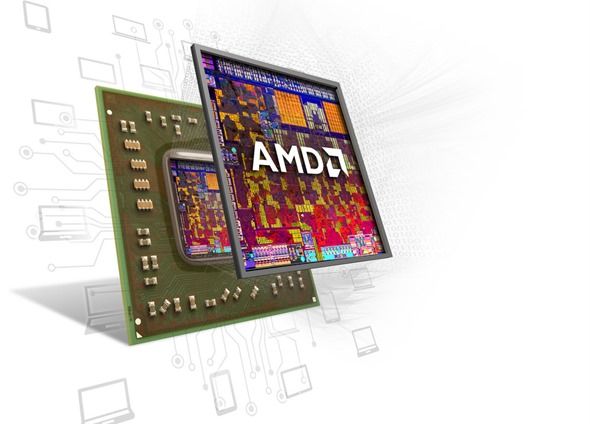 In a press conference at Computex AMD have announced the Kaveri Mobile APU which is targeted at thin and high-performance laptops. It looks like this is a processor that could appear in Ultrabook devices.
We're pulling in information from sources at Computex right now…
According to a tweet from Notebook Italia AMD have announced that Asus, Dell, HP, Lenovo, Samsung and Toshiba will partner with AMD to use Kaveri. In another tweet @tenoq shows an image of the AMD FX-7500 (Update: 19W TDP) matching or beating the Intel i7-4500U in PCMark, 3DMark and Basemark CL. Graphics performance is said to be up to 58% better.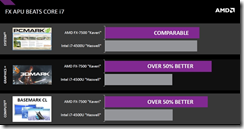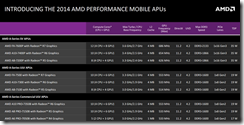 Images via show performance comparison and Kaveri line-up.
Based on those figures, this looks like a similar picture to last year and the year before when AMD introduced processors that would beat competing Intel processors on graphics capabilities in the lead-up to new Intel arhitechtures that close that gap again. In CPU performance there doesn't appear to be any advantage but there are features and pricing that need to be taken into consideration. And of course, competition is good.
There doesn't appear to be an official announcement about this yet on AMD's Computex mini-site but The Inquirer have a post about the press event that highlights more detail on Kaveri mobile. Update: AMD press release is now available.
Update: What look like the official slides from the event show the complete line-up of Kaveri APUs. At the high-end there are 35W TDP parts but there are also 6 parts in the 17W-19W TDP range. Three of those are 'Pro' APUs for commercial use.
Update: Many sites have now published full details. Anandtech, for example.
The new Kaveri APUs will come in FX, A10 and A8 quad-core parts with an A6 dual-core version also targeted at business.  FX version wil have Radeon R7 graphics. A10 versions will have Radeon R6 graphics and A8 versions will have Radeon R5 graphics. All support DirectX 11.2 and DDR3-1600 RAM.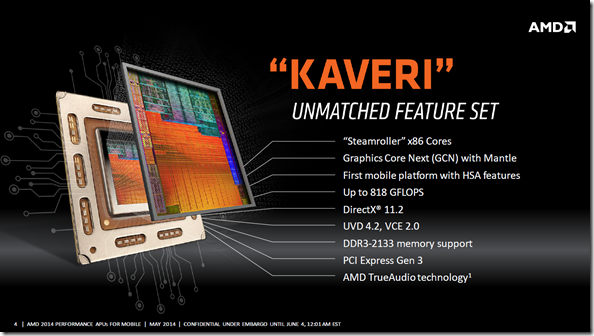 It looks like at least one of the new Kaveri APUs will fit into the ultrathin space with the rest targeting the higher-power notebook segment. With AMD Beema coming up from the lower-power end in to the 15W TDP space there's a good range of AMD options for thin and mobile laptops during 2014.
Finally: Techreport has some benchmarks up that use the FX-7600P (35W TDP part) in a surprisingly thin laptop. GPU performance results are impressive so gamers should keep an eye out for ultra mobile laptops based on these.