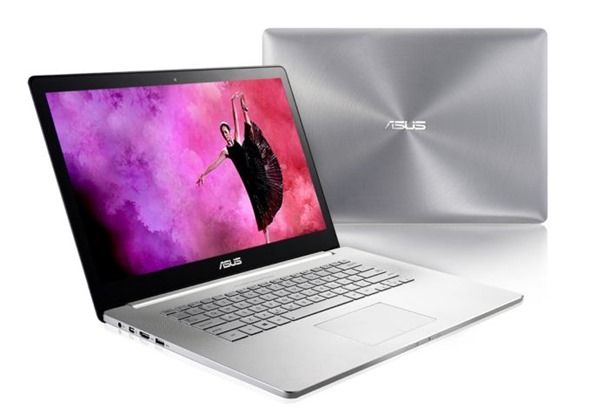 We've never seen an Ultrabook with these specs before. The Asus NX500 Ultrabook was announced yesterday and it proves how far Ultrabook specification can be pushed. The NX500 is targeted squarely at creators and gamers and is one of the most impressive-looking Ultrabooks we've ever seen. No, this is not ultra-light, unless you want these specifications in a Windows laptop, and then it is!
ASUS NX500 Specifications
Official specs from ASUS. ("Subject to change without notice.")
CPU: Intel® Core™  i7-4702HQ  with Turbo Boost Up to 3.2GHz (37W TDP with HD 4600 on board)
GPU: NVIDIA GeForce GTX 850 graphics
Chipset: Intel® HM87
NVIDIA® GeForce® GTX™ 850M with 2GB GDDR5 video memory
RAM: 1x SODIMM (4G/8G) and 4G/8G on board memory / DDR3L 1600MHz support
Drive: SATA 3 RAID 0 (128/256GB) or PCIe x4 SSD up to 512GB.
Screen: 15.6-inch 16:9 IPS 4K/UHD (3840 x 2160) with 10-point multi-touch (using 3M QDEF technology. Wide color gamut of 100 per cent NTSC, 108 per cent Adobe RGB and 146 per cent sRGB. TruVivid direct-bonding technology.
Keyboard: 285mm frameless  illuminated chicklet  keyboard
96Wh battery
Broadcom 3-stream 802.11ac Wi-Fi, BT4.0
USB3.0 X3, DisplayPort, HDMI, SD card slot, headset port. (Gig-E via adaptor.)
Ambient light sensor
Titanium-film speakers and SonicMaster audio technology
Unibody aluminum casing
Size & Weight: 378 x 255 x 19mm / 2.4kg
Price: N/A
Availability: Q4 2014
That CPU is truly a desktop-category processor with about 3x the CPU power you find on a standard 2014 Core i5 Ultrabook but beware, together with that GPU it will burn, burn, burn through the battery.
We suspect that lower-end specifications will be available in addition to this list here. For example a traditional dual-core i7 perhaps with Iris graphics? 4GB RAM? As for pricing we can only speculate that you're looking at a $2K configuration above and that starting prices will be above $1200 but we're ready to be surprised. That huge 96Wh battery in a super-efficient dual-core 17W TDP build might be interesting and of course a 2015 refresh with Broadwell has to be on the cards!
This is a truly impressive looking laptop workstation that we can't wait to get hands-on with. Is there anything else you would have liked to have seen on it?
ASUS NX500 Gallery
Press Release
Computex, Taipei, Taiwan (2nd June, 2014) — ASUS today announced Zenbook NX500, the stunning new flagship of the multiple-award-winning Zenbook Ultrabook™ range. Echoing the timeless, classic design of Zenbook, NX500 introduces a new sleek and elegant all-aluminum chassis housing state-of-the-art components for ultimate performance. NX500 premieres the incredible new ASUS VisualMaster display technology, and has the world's first 15.6-inch 4K/UHD (ultra-high-definition) touchscreen using 3M™ QDEF (quantum dot enhancement film) technology for unbelievably natural and vivid color reproduction.
NX500 uses a powerful 4th-generation Intel® Core™ i7 processor, teamed with the latest NVIDIA® GeForce® GTX™ 850M graphics for seamless multitasking, smooth 4K/UHD video playback and responsive gameplay.
Zenbook NX500 is the proud recipient of a prestigious 2014 IF Design award, which is recognized worldwide as seal of quality for products that excel in specific criteria including design quality, degree of innovation, functionality, ergonomics and more.
VisualMaster display — the future, today
Zenbook NX500 is the first ASUS product to feature the new ASUS VisualMaster display technology, which ensures incredible detail, clarity, accuracy and vibrant lifelike color. The VisualMaster display on NX500 is a 15.6-inch IPS touchscreen, with a 4K/UHD resolution for stunningly detailed images. It is the world's first 15.6-inch laptop display to feature 3M™ QDEF technology, which uses quantum dots to enable an ultra-wide color gamut of 100% NTSC, 108% Adobe RGB and 146% sRGB. This means that NX500 can display an unprecedented range of colors and hues, making all images richer and more vivid.
With wide 178-degree viewing angles, ASUS TruVivid direct-bonding technology to minimize reflections, factory-calibrated color temperature, and a pixel density sufficient to make individual pixels effectively invisible from a normal viewing distance, NX500's display is simply the best you can find on a laptop, anywhere.
For the ultimate touch experience, NX500 uses high-fidelity touchscreen actuators that are twice as sensitive as the industry standard, for smooth, intuitive and accurate 10-point multi-touch input.
NX500 — Zenbook evolved
Evoking the classic, timeless Zenbook design, NX500 has a refined new slim shape featuring the Zenbook signature spun-metal finish on the lid. Crafted from a single block of aluminum, and tapering to remarkably slim edges, NX500 is supremely elegant and portable. Every detail of NX500 is carefully crafted for style and practicality, including the chiclet keyboard with its one-piece frameless construction and backlighting controlled by an ambient-light sensor, which gives perfect key illumination under all lighting conditions.
Ultimate power, ultimate connectivity
As with any Zenbook, NX500 is not only incredibly stylish, but also has power to spare for any computing task, thanks to its powerful Intel Core i7 quad-core processor and discrete NVIDIA GeForce GTX 850M graphics with 2GB of GDDR5 video memory. With either a state-of-the-art 512GB PCI Express (PCIe) x4 solid-state-disk (SSD), or up to two SATA 3 SSDs (configurable as a RAID 0 array) for ultra-responsive data transfers and quick application loads, NX500 will never keep the user waiting. The three USB 3.0 ports provide 10-times fast data transfers than USB 2.0, and the next-generation Broadcom® dual-band three-stream 802.11ac Wi-Fi gives speeds up to 3 times faster than 802.11n with compatible routers. Integrated Bluetooth 4.0 allows connections to the latest high-speed peripherals.
Awe-inspiring sound
The stereo speaker grilles on NX500 feature a laser-engraved ripple-effect design detailing that gives a visual hint of the incredible SonicMaster Premium audio, incorporating ICEpower®, Bang & Olufsen technology. This gives NX500 rich, deep bass and crystal-clear vocals, with a wider frequency range and higher volume levels than ordinary laptops. MaxxAudio® Master by Waves, recipient of a Technical GRAMMY Award®, brings professional-level sound processing to NX500 for an enhanced listening experience.