How do you solve the problem of Google not allowing Dual-OS on a laptop? You do what Asus has just done with the Asus Transformer Book V (five) 5-in-1 laptop/smartphone which was demonstrated at the Asus press conference in Taiwan today.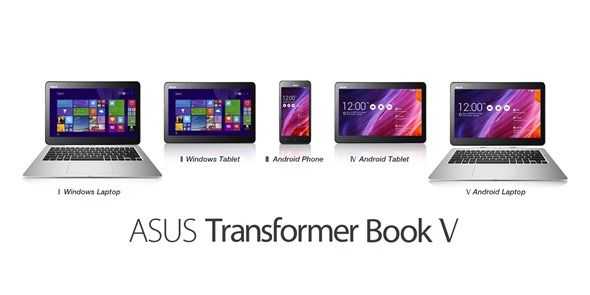 Looking a bit like the Asus Padfone products which allow you to dock a phone into a screen and keyboard module the Transformer Book V5 does a similar thing but allows you to dock an Android phone into the back of a WIndows Notebook thus allowing the user to either view the phone as a small window or to go full-screen for a full Android laptop experience.
The feature only works between the two specially developed devices and it looks like there's not much in terms of sharing. For example it's not clear if you can use the LTE on the phone from the Windows OS. Does the laptop charge the phone? Can you drag and drop files between the two devices or even share storage?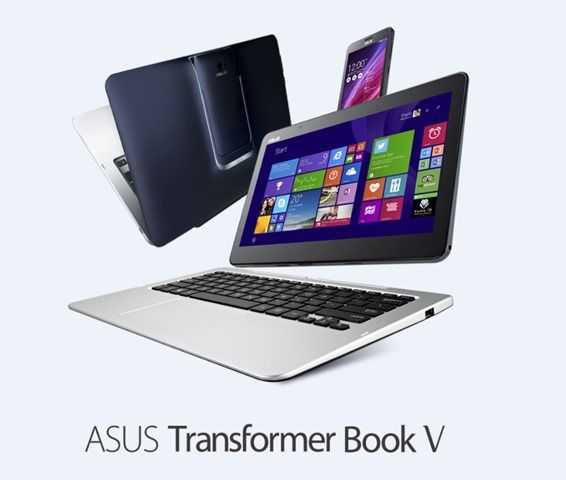 Video demo below.
The laptop comprises a 'HD IPS' 12.5-inch touchscreen and runs Windows on an unspecified 'next generation' Core processor. There's a very simple set of ports available.
USB3.0
USB2.0
Up to 1TB drive
The phone has a 5-inch screen and runs Android 4.4 on an Intel Atom quad-core CPU, has 'up to' 128GB of storage (possibly with MicroSD?) and a 2500mah battery.
Watch out for a bit of smoke and a few mirrors here because while the demo looks great the integration between the two devices might not be as deep as you think. This simple integration could be exactly what some people are looking for, at the right price. Engadget have some more info on the specs and they look relatively high-end.
Update: MicroHDMI on tablet.
Press release:
Transformer Book V
Transformer Book V is the world's first five-mode, three-in-one converged laptop that features a Windows and Android laptop and tablet as well as an Android smartphone, making it an incredibly flexible device able to excel in any usage scenario. Its revolutionary and elegant design comprises a laptop with a detachable 12.5-inch screen that becomes a separate tablet and a 5-inch smartphone that docks into the tablet.
As a laptop, Transformer Book V includes a full QWERTY keyboard and touchpad, and runs both Windows 8.1 and Android 4.4 KitKat. A dedicated hardware button provides instant and seamless switching between the two operating systems. The laptop features a next-generation Intel® Core™ processor providing high performance for an efficient and productive user experience. The 12.5-inch HD IPS display has sharp graphics and rich, vibrant color, and touch support adds additional convenience and functionality when using Windows 8.1. Transformer Book V comes with ample storage of up to 1TB for apps, documents, media and more.
As a tablet, Transformer Book V also works as a standalone Windows 8.1 tablet and an Android 4.4 KitKat tablet when the phone is docked. Switching between the two systems only takes a tap on the screen. Access to the Google Play Store and Windows Store provides a massive amount of apps and games to choose from, making Transformer Book V a highly-mobile entertainment and productivity powerhouse. Its built-in storage of up to 128GB offers plenty of room to store those apps along with movies, photos, music and more.
As a phone, Transformer Book V runs Android 4.4 KitKat, and is the world's first 5-inch LTE smartphone powered by an Intel® AtomTM quad-core processor, giving it unparalleled performance when running apps, playing games or browsing the internet. Its Long-Term Evolution (LTE) support delivers a superior internet experience with network speeds that are up to four times faster than 3G. Transformer Book V comes with a 2500mah battery that provides up to 10 hours of web browsing time.
Transformer Book V combines the power of a laptop with the mobility of both a tablet and smartphone, and provides the flexibility to run a wide range of apps. Together with the easy ability to switch between modes and share data between devices, Transformer Book V delivers an unparalleled user experience.