Computex 2014 has started. We're covering it from afar this year and not only are out screens loaded up with Twitter, Google and RSS searches but we're also in direct contact with teams from Notebookcheck, Mobilegeeks, Laptopmag, Tabtec, Newgadgets and more. It's going to be a busy 3 days (at least) so here's a rundown of what we're focusing on from major PC brands along with other things we'll be be looking out for in the ultra-mobile PC space.
ASUS have already teased their 'next incredible thing' (in which 'thing' turns into 'thin' in the teaser video.) More interesting is the blender video that shows an Ultrabook, a tablet and a phone being blended. Could this be a modular laptop? 2-in-1 powered by a phone – an Intel-based Android phone that also runs Windows? I don't know but I'll be watching the live stream at 1400 local time on Monday June 2nd,, soon after this article has been posted.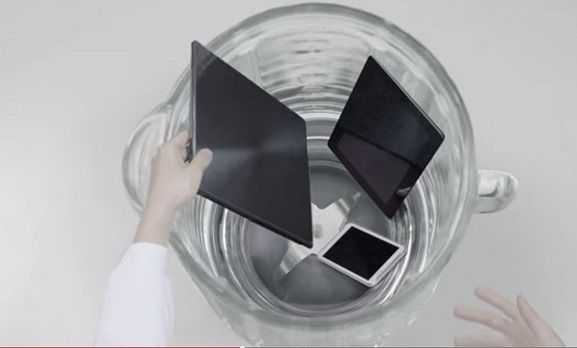 HP. Microsoft teased a tablet in a recent tweet and it looks like it's got HP design characteristics. Here's a picture I made of the back of the HP Pro X2 410 G1 lined-up with the Microsoft tweet. We're not aware of any HP press event at Computex but there could be announcements and invitation-only events.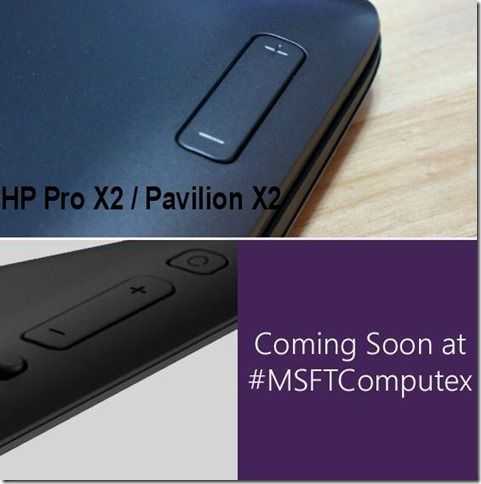 Samsung – We've seen some news about Samsung SSDs that go up to 1TB in size and use 'vertical 3D NAND' but we've not seen any event information. Samsung have been quiet in the Windows PC market recently so maybe it's time for a new range of Windows tablets, 2-in-1's and Ultrabooks? Or maybe they will wait until IFA in September as they often do. Taiwan is not a place that South Korean companies use as their launchpad.
Lenovo – There's not much to say about Lenovo's Computex activities because there's no press event, no teaser and no rumors. Lenovo don't even have a stand at Computex so don't hold your breath for Lenovo announcements.
LG – They've just launched the flagship G3 smartphone and they don't have a booth at Computex so maybe we won't see too much from LG at Computex.
Dell – A thin news story from Digitimes claims that Dell will make announcements at Computex despite not having a booth there. Tablets, notebooks and Chromebooks could be included. [Source]
Toshiba – Toshiba have just announced the Encore 2 range of 8 and 10-inch tablets based on the updated Baytrail-T platform. We're sure you'll see this either at the Intel or Microsoft events but don't expect much more because Toshiba don't have a stand at Computex.
Fujitsu – This Japanese company looks like it's staying away from Taiwan but of course, we'll keep an eye out for anything disruptive coming from their press channels.
Acer – No press event. Acer have chosen to launch some products before the event (Acer Iconia 8 Android tablet on Intel Z3745 quad-core for example) but we're also expecting some Windows PC announcements. We'll probably hear a bit more about the Switch 10 but also watch out for Acer at the Intel and Microsoft events. (Update: We've seen a leaked press release but we're holding back until the embargo has finished.)
Intel – Expect a big presence from Intel at Computex as it's an extremely important event for them. They have a booth (the press normally get invited for a preview tour so watch our for news from that) and they will also hold the opening keynote: 1400 (2pm) on Tuesday. While the opening keynote will focus heavily on the local ecosystem in Taiwan there's usually stuff going on between the lines and in the background that is worth paying attention to. The live webcast with be here.  More important for us is the Intel Mobile & Personal Computing Satellite Event that will run on June 4th at 1230 local time. "Hermann Eul, vice president and general manager of Mobile and Communication Group, and Kirk Skaugen, senior vice president and general manager of the PC Client Group, will co-host the event to provide details and plans to reinvent mobile communications and personal computing." This event won't be streamed live but will be recorded for online replay after the event. [Source] We're expecting to hear about Broadwell-based Ultrabooks and 2-in-1's that are fanless and have Intel RealSense integrated.
AMD – Watch the ifitcanreachspace website for AMDs big announcement at Computex. According to reports you might see an Ultrabook-style APU launched. [source] but we also expect more. AMD have a press event planned for 10am on Wednesday the 4th and we're hoping to see some tablets and 2-in-1s along with notebook processing platform announcements.
Microsoft – This could be big. On the 4th June (Wed, Day 2) at 1600 (4pm) Microsoft will hold a keynote event. Expect to see the Toshiba Encore 2 devices being showcased along with some even cheaper Windows 8 tablets. We could see a few new PCs being launched too so stay tuned. The #msftcomputex hashtag on Twitter could get lively.
Other 'watch' topics for Computex 2014
Low cost tablets will feature at Computex, I have no doubt about that. Wait until the big announcements are out of the way and then you'll see a wave of brands announcing low-cost Windows 8 and 10-inch tablets that may also run Android.
FIDO (Fast Identity Online) will show their vision of the future of authentication. You'll see biometrics (fingerprint, eye and iris scanners, voice and facial recognition) and existing solutions and standards, such as Trusted Platform Modules (TPM), USB Security Tokens, embedded Secure Elements (eSE), Smart Cards, Bluetooth Low Energy (BLE), and Near Field Communication (NFC.) I find this an interesting area and will be paying close attention. [Press release] The FIDO alliance includes ARM, Samsung, Lenovo, Google, Synaptics and others.