Intel are currently presenting on stage at Computex. The press-release reveals what's about to be demonstrated.
The world's first 14nm fanless mobile PC reference design from Intel is a 12.5 inch screen that is 7.2mm thin with keyboard detached and weighs 670 grams. The innovative design is based on the first of Intel's next-generation 14nm Broadwell processors, purpose-built for 2 in 1s and will be in market later this year. Called the Intel® Core™ M processor, it will deliver the most energy efficient Core processor in the company's history.
So it looks like the days of the U-series processor are over. Perhaps the Y-series too. More importantly it looks like ASUS have used the Intel reference design in their Transformer Book Chi product. Both have a 12.5-inch screen. Both use the 'next-generation' Intel core. One is 7.3mm thick, the other is 7.2mm thick. OK, maybe the casing is different!
Update: The reference device is known as Llama Mountain.
[Source]
We're pulling-in more information from the live event from here on… (updating)
Intel say that 130 new tablet designs are coming on Baytrail, Merrifield, Moorefield. They're on track for 40 million tablets this year.
Intel announces Core-m.
"With 14nm we're going to continue to deliver breakthroughs in performance."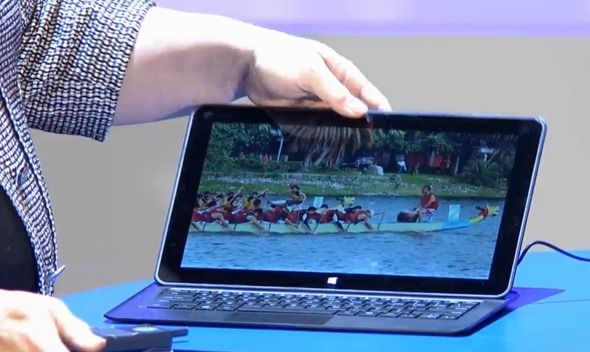 This holiday you will be able to purchase products based on Core m. Intel confirms the Asus Chi is using Broadwell.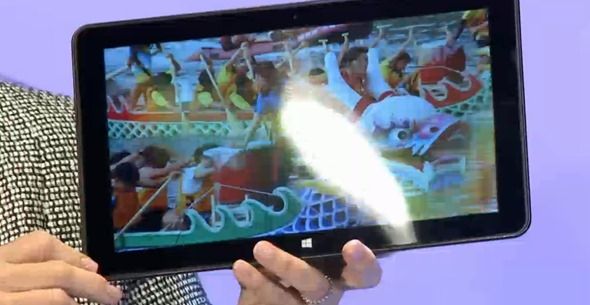 Jonney Shih gets on stage (with a very rough voice – he's been shouting!) to talk about the Chi and an Atom-based Zenphone.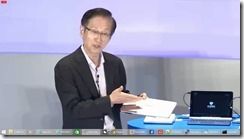 [Small hiccup in teleprompter is rather embarrassing for Shih but he fills-in well.]
[Demo of TV streaming over LTE on an Intel tablet.]
[Demo of first Sofia phone call. SoFIA is first integrated LTE SoC from Intel.]
[High performance Quad Core 4Ghz demo.]
[SSD for data-center announcement]
Real Sense
A demo shows face recognition and voice recognition, wireless docking and other
Rene talks about Real Sense technology with 10-language support and new modes of camera interaction.
From press release:
Real Sense will be built into mainstream Microsoft Windows* 8 and 8.1 devices, including Ultrabooks™, detachables, notebooks, 2 in 1s, and All-in-Ones (AIOs) from Acer, Asus, Dell, Fujitsu, HP, Lenovo, and NEC later in 2014.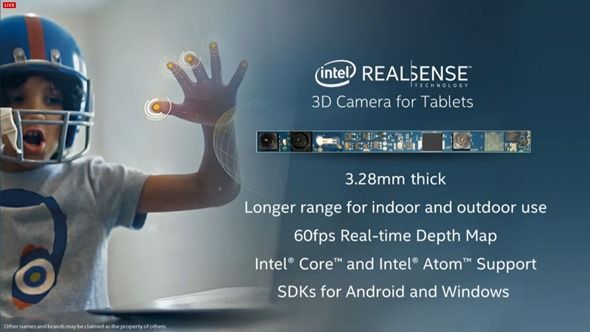 Real Sense 3D for tablets announced – a rear-facing camera / 'world-facing.'
Faceshift demo shows 50-muscle face tracking…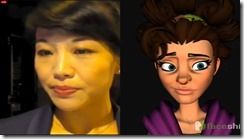 Intel announces a new SDK for front and rear Real Sense cameras, also announces contest for new Real Sense SDK.
[END OF KEYNOTE]
To summarize:
Intel Core m announced on 14nm process. (Formerly known as Broadwell.
Core m can drive fanless tablets such as the ASUS Transformer Book Chi.
Fanless reference design is 670 grams and 12.5-inches
New Real Sense technology announced along with new competition
Products based on Core m will be available for the 'holidays.' (end Q4.)