We saw the Llama mountain 12.5-inch concept announced at Computex yesterday. Its 7.2mm fanless design is enabled by the new 14nm Broadwell-Y based Core M branded CPUs. Today at Computex Intel demonstrated a 10-inch version of that dockable tablet that weighs just 550 grams (1.21 pounds.) That's as light as any Atom-based 10-inch Windows tablet we've seen to date. The thickness is just 6.8mm. This is a breakthrough. A Core-powered fanless tablet at a consumer-friendly weight.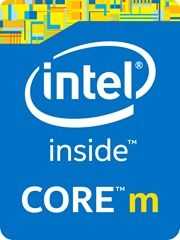 This is only a reference design but it's working and obviously something that OEMs will be working with to help them produce interesting 2-in-1 and tablet products for Q4 this year. We're trying to track down some images of the Llama Mountain 10-inch design so check back for more info as we update.
In the same event today Intel also announced more details on RealSense sensors including RealSense Snapshot for depth-enabled photography.  [concept video from IDF shown here.]
Intel also announced a new RealSense SDK, a new developer kit, new developer competition and a lot of applications that will be RealSense-enabled. More info on RealSense here.
The press release is here. No information was given on the next-gen Windows tablet platform, Cherry Trail.