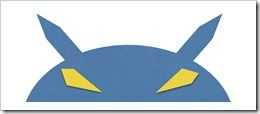 Back at MWC we spoke to MMV CEO Christopher Price about dual-OS tablets, Ultrabooks and desktops. At that time they were public about iConsole.TV – an Android build designed to run games on high-power PC platforms. The idea of high-end gaming power is interesting but the more interesting topic for us was the promise that they were "building the first Android desktop PC." [Watch the video here.] MMV have officially launched that project and it's called Console OS. It's going to be a true instant-switch dual-OS options for Windows PC owners.
Console OS is a part-completed dual-boot Android build that has the aim of being a complete desktop-capable fork of Android for X86 . The project has launched on Kickstarter where you can support and influence the project. If the project is successful we could see a true hypervisor-controlled instant-switch Android build in 2015.
The Kickstarter project is mainly geared towards building Console OS Pro – a version with hypervisor-based switching, service layers, maps and stores. This version will also, eventually, include OpenGL4.0 support and a Windowing system. Console OS will also be available to everyone soon as a basic dual-boot version.
Neither version will ship with the Android application store or Google service integration but that doesn't mean it's not possible. It's up to MMV, OEMS and Google to solve that issue and there's obviously going to be money directed towards teasing OEMs into the project. Unofficial Google solutions are likely to appear but the hope is that Google would eventually come to their senses and support this commercially led project. The Amazon store is has already been tested and MMV will also build a Console Store that will include enhanced apps. MMV are also promising to allow you to import applications from your existing Android devices.
Other Cosnole OS Pro features:
Toggle between native and modified user-interface.
Ten-Second toggle between Windows and Android.
The Hypervisor looks like it will be based on Xen and include XenGT graphics virtualization technology.
2 apps can be run side by side (on both versions)
'Industry licensed'
Secure-Boot supported
Gaming OpenGL 4 will be supported in 2015
ASUS Transformer Book T100 will be one of the first products to get a tailored build
Kickstarter supporters will be able to vote on which devices get priority in the tailoring process.
I've taken a close look at the project and spoke to MMV and I think it's one of the best dual OS projects yet. Where Bluestacks, the AMD-funded project, runs inside a Windows-based runtime and others from Insyde and AMI haven't really got off the ground this is not only a good technical solution but a well-organised project. Choosing to go through Kickstarter means it gets a good amount of free marketing too.
So why would you want Console OS? The free, dual-boot version may not interest too many people outside the early-adopter class but I think many will be interested in testing games on devices like the T100 and even some more powerful Ultrabooks. The Pro project is going to be the more interesting one for the mainstream though. There are going to be device-specific issues that will limit the audience at first but by choosing popular devices first – and the Transformer Book T100 is a perfect example – they should improve their reach quickly. Ultimately the OEMs need to pick up Console OS to make it truly successful and that success really does ride on being able to get a full Store and quality service layers into the product. Google is obviously the first choices but let's not forget that Microsoft have a full Android stack in the Nokia X project.
MMV have published a list of competing Android X86 options and features.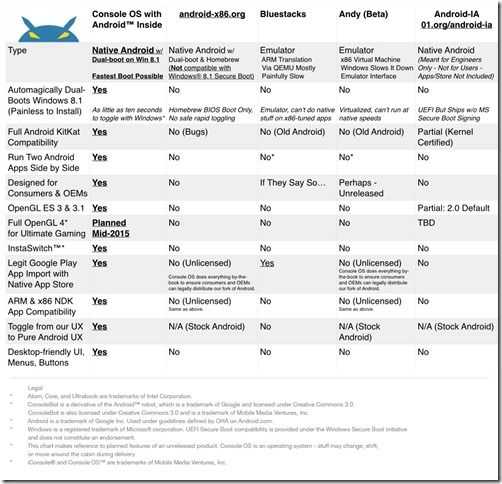 Here's the list of devices that will get tailoring treatment from day 1 although it must be noted that there could be issues and changes. Sensors, 3G, multitouch, digitizers and other hardware will need open-source drivers before they are supported.
ASUS: Transformer Book T100
Dell: XPS 11, XPS 12, XPS 13, and XPS 15, Venue 8 Pro, Venue 11 Pro
Intel: Next Unit of Computing (all NUC models except for 847DYE)
Lenovo: Miix 2 8-inch, Miix 2 10-inch, IdeaPad U430p, ThinkPad X1 Carbon, Yoga 2, Yoga Pro 2
Sager: NP2740
Sony: VAIO Tap 11, VAIO Pro 11 & 13
System76: Galago UltraPro
Toshiba: Protege R30 & Z30, Tecra A50, Z50 & Z40
And, of course, all of our own iConsole-branded hardware like iConsole Unit 00 (and more, new hardware coming later this month)
Support for additional systems will be steered by OEM backing and by the community.
Console OS release timescales
Console OS Developer Release 1 within about 30 days of the Kickstarter's conclusion (Est. September) After the initial launch the Kickstarter funds will be used to build out support for the devices that are  voted for.
MMV expects Console OS (Pro) 1.0 around December, 2014 with the goal of giving OEMs something to ship in time for new x86 tablets and convertibles this winter to ship in stores.
We're in touch with MMV and looking forward to early testing. Expect more coverage from us soon.