I have a history of testing simple, fast and efficient video editing software and two years ago I settled on an Intel platform with Quick Sync hardware. Quick Sync is simply a hardware acceleration layer for video encoding and processing and it works extremely well on Ultrabooks. It also works on Clovertrail and Baytrail-T Windows 8 tablets and 2-in-1s (also a few Baytrail-M processors) but the problem there is that the desktop applications are just a bit too heavyweight. I've tested a number of Windows 8 'RT' apps but it wasn't until last week that a re-tested Magix Movie Exit Touch and found a big step forward. Version 2 is fast, touch-friendly and works perfectly for YouTube video sequencing up to 1080p.
The basic version is free but you won't be able to title, trim with accuracy or output to 1080p but that's OK because if it works well for 720p videos for you it's going to be worth paying the 2.49 euros for the full version.
Features:
Import multiple clips, photos to a timeline. Apply various transition effects, add an additional audio track, stabilize videos, add title and export to 320, 480, 720 and 1080p in H.264 or WMV formats. Upload videos to YouTube. Use on-device camera or import videos from external cameras.
I tested Movie Edit Touch 2 on a Clovertrail tablet (Acer W510) and it crashed every time but when I tested on a cheap Lenovo Miix 2 8 I was impressed to see fast 720p rendering of videos taken with my Nokia 808. Using the Lenovo Miix 2 10 with five 720p clips, an image, crossfades and titling across 30% of the video I saw an export rate of 4X (50 seconds for a 200 second video.)
The 720p render resulted in an H.264 file with a 197kbps 2-channel audio and a 9Mbps video rate which is a little high for on-the-go YouTube uploads in 720p but good for local playback. A 480p export was done in 37 seconds and resulted in a 2Mbps file rate which could be perfect for quick video uploads to YouTube while still leaving the option for a high-quality output at a later stage.
Using the built-in camera to record some 1080p clips I pasted 4 of them on the timeline along with 3 photos. Two titles and an audio mix were overlaid onto most of the video. The 90 second video rendered to 360p (1 Mbps rate) in 24 seconds,  480p (2 Mbps rate) in 28 seconds, to 720p (Mbps rate) in 34 seconds and 1080p (18 Mbps) in 52 seconds.
A stabilized 480p render took 6 minutes which is 4X longer than real-time.  Quality of stabilization is good although it's unusable due to the introduction of black frames into the render. This must be a bug. The stability of the app is questionable too. We saw crashes on YouTube upload and crashes on rendering which appear to be random. The app re-starts after being sent to the background (project is saved.)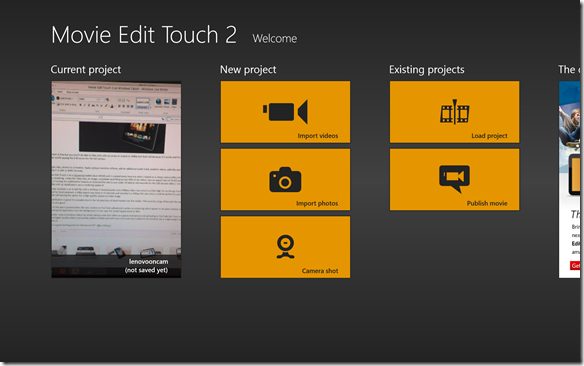 There are quicker ways to produce videos by simply taking a one-shot video on a good smartphone and uploading to YouTube. The iPad or iPhone is good too but if you want to sequence and title some higher quality videos from external sources and quickly publish a titled track with your intro and outro added to the timeline this is a lightweight, low-cost and fast way to achieve it. Given that it's version 2 it also looks like Magix are actively working on it unlike other video editing programs we've seen in the Windows 8 Store.
At last there's a good starting point for Windows 8 video editing that doesn't require a desktop application. . Given a good quality internal cam the process is even quicker. Take a look at this video I (very) quickly put together using video captured, scene-by-scene, into Movie Edit Touch 2.
Improvements needed:
Stability (app does not run in background.)
Saving project can take a long time.
Audio annotation capability.
Import images direct from cam. (Currently only imports videos taken from built-in cam.)
Stabilization bug introduces black frames.
Ability to choose a rendering bitrate could help. E.g. 3Mbps 720p for a fast YouTube upload.
Note: All testing done with H.264 source files and H.264 rendering.
Have you considered using a Windows 8 tablet for video editing. At under $250 a Windows 8 tablet and Movie Edit Touch 2 could be an essential addition for anyone on the road, for journalists, bloggers and others that want a simple fast editing suite without external camera restrictions.