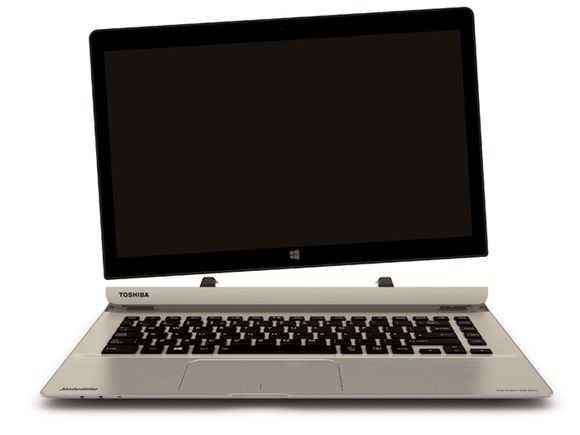 There are three things I check when I quickly evaluate new 2-in-1 announcements. Price, performance (CPU, disk, screen) and weight. If the tablet is over 1KG a big buzzer goes off in my head. This 13-inch Satellite Click 2 Pro P30W however has got me inquisitive. 13.3-inches in 1.05KG (2.3 pounds) on an Ultrabook platform makes it quite interesting.
As the name suggests this isn't the first Toshiba Click. The original Click, launched at IFA 2013, was an AMD-powered device that used the netbook-class A4-1200. It wasn't that well received which is understandable because who wants a 2KG laptop that performs like an old netbook? The recently launched Click 2 range comprises two designs. One, the Click 2, is aimed at the lower-cost consumer market, the other, the Click 2 Pro P30W, is designed to offer an Ultrabook experience with good connectivity.
The Click 2 Pro is a stylish looking 'laptop first' 2-in-1 with a Core i5 (Haswell) CPU, HD4400 graphics and SSD inside. A full-HD IPS touchscreen, backlit keyboard, Harman/Kardon speakers, AC WiFi and an additional keyboard battery mean it's playing up at the top of the market. Entry price is $1099. A version with Core i7, 8GB of RAM and a 256GB SSD costs $1499 on Amazon right now.
The weight of the combined unit is 2.05KG which isn't light. Toshiba's first Ultrabook was also a 13-incher and weighed half of that but it didn't have a touchscreen and a removable tablet. At 13.3-inches it's difficult to find anything that weighs much less and has the same features, apart from the ASUS Transformer Book T300LA and although it weighs almost the same it's slightly cheaper. The recently announced Transformer Book T300 Chi might also be interesting but we don't expect that to reach the performance levels of the Click 2.
Battery capacity is 41Wh which isn't stunning given the weight but there's talk about a keyboard battery option. Whether that boosts the weight we don't know but given the size and weight of the standard model we think there's probably a weighted spacer in the keyboard. Toshiba is quoting 6 hours battery life for the standard model which is in line with a 41Wh battery capacity and the given system specifications.
I mentioned that a 13.3-inch 1KG full-PC tablet is going to be interesting, but is it practical? I fear not for most users, especially as this product doesn't not include a digitizer layer, but with an 8GB RAM, Core i7 and 256GB SSD option it remains a fairly unique, stylish and possibly high-quality option for those that want a 13-inch 2-in-1 with full laptop / desktop capability.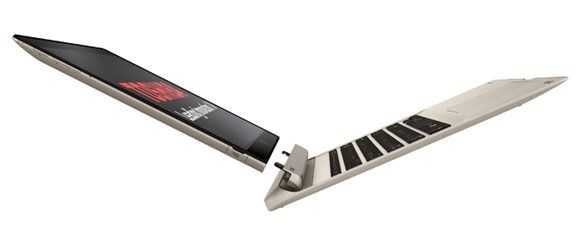 Availability is June in USA, Q3 in Germany.
Source:Toshiba.