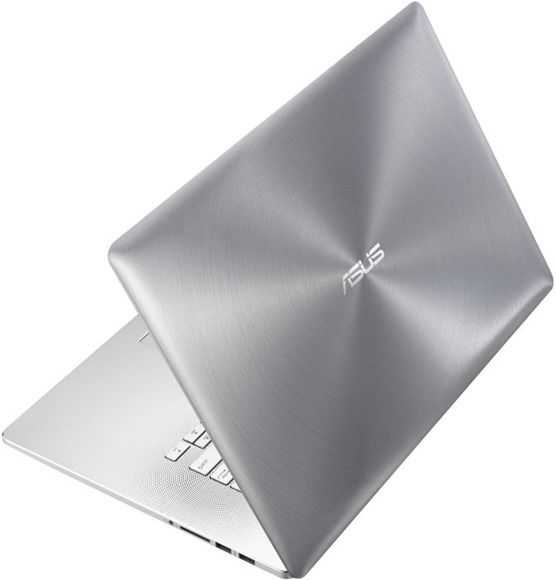 When ASUS launched the Zenbook NX500 at Computex earlier this year it had one of the most impressive specifications lists to date. An Intel Core  i7-4702HQ  with Turbo Boost Up to 3.2GHz and an NVIDIA GeForce GTX 850 are the processors that power the 15.6-inch 4K IPS screen. There's a huge 96Wh battery AC WiFi and a lot more. The price is high and the weight is over 2KG. Ultrabookreview have just published a full review and I spoke to the author, Andrei, about the unit…
[Andrei] I got to play with an early version of the Asus Zenbook NX500 in the last several days.On paper, this thing is stellar: wide-gamut 4K display, powerful hardware (Intel Core i7-4712HQ CPU, 16 GB of RAM, Nvidia 850M GDDR5 graphics, 512 GB SSD), a big 96 Wh battery and a sleek, metal made, sub-5 pounds body.
In practice, the screen is sharp, bright and popping. The laptop is also fast and can easily handle everything you might throw at it, from the basics and up to more advanced tasks. However, it struggles with some games, despite packing a factory-overclocked Nvidia chip. From my tests, it looks like Asus had a hard-time cooling this device and as a result, chose to throttle the CPU's frequency once the cores reach a certain temperature (around 85 Celsius). And that can be seen when gaming, as some fast-moving titles encounter occasional freezes.
Performance aside, there are things that you'll probably like a lot about this one (the design and speakers), things that are OK (ports selection and battery life – just North of 5 hours of everyday use) and things that should have been done different (the keyboard and cooling solution).
Is the NX500 worth it?
[Andrei] If they fix the performance issues on the final retail version, I'd say yes. Just keep in mind that the NX500 is mostly a multimedia laptop and not a gaming ultraportable. For that you should probably wait for the GX500, which will be released several months after the NX500, from what I know right now.
At around $2000 this is an expensive bit of kit but one that content producers might want to take a closer look at. Photographers, designers, videographers and those in need of a highly powerful Ultrabook should put it in their list. I should get hands-on with this at IFA in early September.