Intel's Core M reminds me of a moment in 2008 when I briefly tested a Samsung Q1 Ultra Premium. It was one of the few UMPCs around that used a Core Solo processor instead of the very low-end pre-Atom CPUs and it was a breakthrough in handheld PC performance. Core M is going to allow manufacturers to make exactly the same sort of breakthrough from 'just enough' into mainstream performance on a handheld PC except this time it's fanless. Core M is going to be the first CPU that allows manufacturers to make different types of tablet PC without the compromises of size, heat and noise that have been associated with previous high-power Windows tablets.
That much was clear from early information we got about the Core M / Broadwell Y processing platform at Computex. A 600 gram 10-inch tablet running 'Core' without fans is special but yesterday Intel gave us more details about how they've achieved performance, sizing and TDP improvements.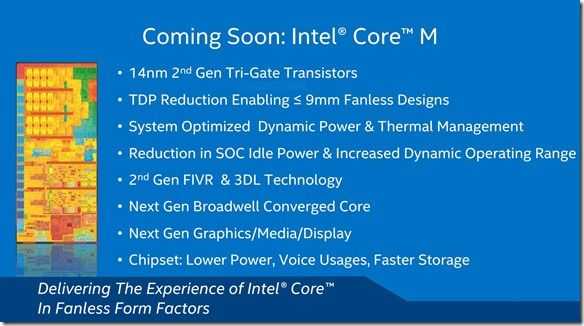 Before we sing the praises of fanless Windows tablets too loud let us consider the Surface Pro 3 vs the HP Pro X2 410. Both of these use Core i5 CPUs but the HP Pro X2 is fanless. It also gets hot and throttles the performance so much that you can easily get into situations where an Atom-based tablet might be better. The latest Core CPUs use thermal measurements to calculate short-term CPU overclocking but if the system gets too hot, you end up with an under-clocked system. It means that the Surface Pro 3, which has a quiet fan, is much, much more powerful than the HP Pro X2. Fanless systems can be a disadvantage.
We don't quite know how much Core M devices will be affected by throttling yet. Larger devices with more airspace, and I expect to see some interesting 12-13-inch designs soon,  will have the advantage over thinner designs with less 'thermal headroom' but leading edge designs may be able to squeeze more out of the platform. This slide from Intel is really worth studying. In it you can see how device thickness impacts on the TDP limits. At the extremes, that's with a 7mm thick 10-inch design, you've got just 3W of TDP to play with.  Ambient temperature becomes more critical too and I demonstrated that with the HP Pro X2 410 in my review at Notebookcheck.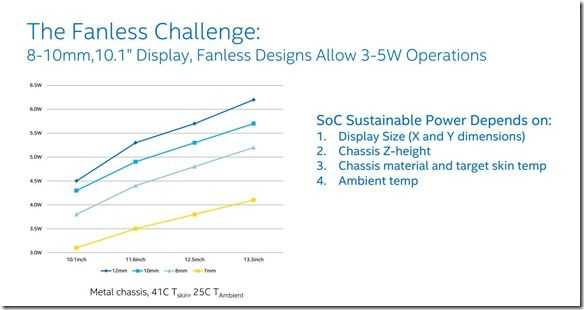 What is certain though is that in terms of marketing, Core M-based fanless Windows tablets will offer some real differentiators. Light weight, thin designs, silent operation and, you can be sure, 1.6-2.4Ghz clock ranges will sound impressive. Underclocking to 600Mhz won't be in the list of features though so we'll have to look carefully at the first tests. I'll certainly be looking out for this when I attend the Intel Developer Forum in September.
Core M tablets and 2-in-1s will be high-end devices. They need to be to cover the costs of this leading edge CPU on its new manufacturing process. Although Intel says that the "14 nm product yield is now in healthy range" and that considering the 14nm process produces more chips per wafer you can guarantee that Broadwell-Y will have lower yield than other SKUs. Each one will have to be carefully tested to see if it meets Intel's standards.
Those high-end devices will offer some nice features though. Although there are Atom-based platforms that offer reasonable Gen-7 Intel graphics and Intel Quick Sync video hardware the CPU and video processing here is going to be in another league. It's not desktop-gaming capable but it's certainly going to enable fast 'Pro-Am' 1080p video editing and rendering. GPGPU acceleration for HTML5 is also likely to be in a different league meaning the ever-important Web applications will be faster.  Given that gaming capability is not a key feature the platform would match requirements for a high-end Chromebook quite nicely. There's power here for some impressive X86 Android gaming experiences too and we shouldn't forget that Core M won't be just for Windows, at least when the pricing comes down.
In terms of battery life Intel have revealed a few features and optimisations that could help significantly in some scenarios. Video playback and typing, as I'm doing here, should get a significant battery-life boost from the optimised power control elements in the new platform.  TDP is said to down by up to '2x' (meaning 3W TDP SKUs are probably in the pipeline) for the same performance level. That's impressive. Due to die size reductions there's more space for battery too although it's likely that some of this space needs to be used for airflow improvements. Given the cost of batteries I wouldn't expect any increases. On the contrary, you might see battery sizes reduce on the lower-end and thinner products.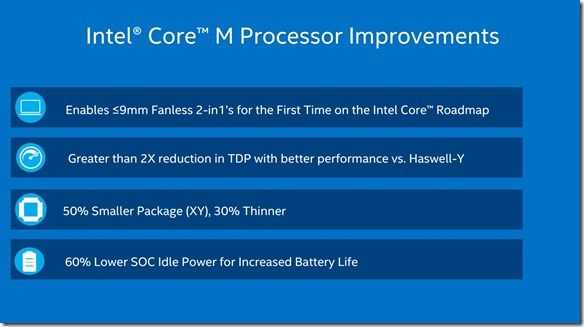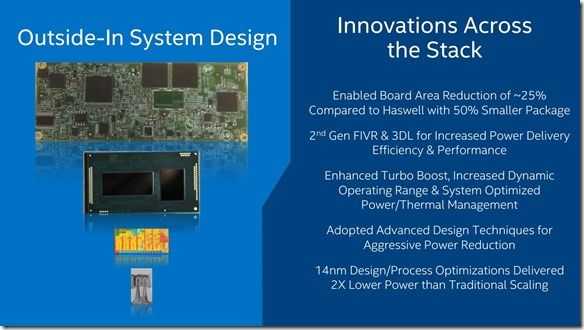 You'll find a detailed analysis at the new Broadwell architechture over at Anandtech so don't forget to check that out too.
In summary the Core M range of SoCs, like other 'Y-series' or 'SDP' oriented designs will offer a lot to the designer and a lot to the marketing manager and we'll have to be careful to analyse what this really translates to in terms of performance for power users. There may not be enough in Core M to run a complete daily desktop experience and for consumers, the prices could be high but thin and light fanless designs are critical and it looks like Intel have enabled a product range that can offer that. Given some good, showcase designs – and the ASUS Transformer Book Chi could be one of them – there could be enough here to elevate Intel-based tablets into a unique position and that's exactly what Intel need. Core M is the differentiator-enabler.
Source: Intel. Press materials are here.