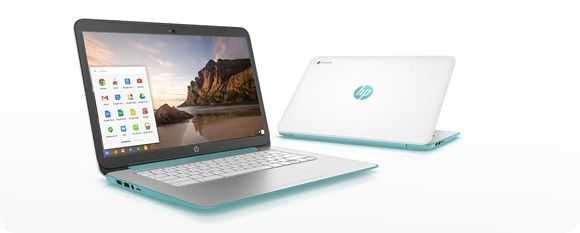 The HP Chromebook 14 was popular and well-received. Maybe it was because of the 14-inch screen but I think in general it was the build quality, the keyboard and the Haswell-architecture performance that did it. It was an all-round quality Chromebook.  The new HP Chromebook 14 has an updated design, screen options and has switched from X86 to ARM in the processor department. Battery life is improved as a result.
The new HP Chromebook 14 runs a Tegra K1 inside It's fanless, has longer battery life then the existing model and there's a 1080p touch display option . The screen is still a cheap TFT part though and the performance is going to be lower than the previous model. It isn't the CPU upgrade some might be looking for.
Why have HP made this confusing side-grade? I had a brief, offline hands-on with the HP Chromebook 14 a year ago and it felt extremely solid. The new version I tested at IFA 2014 feels just as good and I think I know why the changes have been made.
One reason could be battery life. In environments where carts of Chromebooks are rolled-out in the morning and then re-loaded 8-hours later it's important to be able to span that time period. The 'old' HP Chromebook 14 had about 7 hours of battery life. The new Tegra K1 version is promising over 9 hours of battery life. Tegra allows the fan to be removed (quiet, more rugged, cheaper to build) and there's a potential advantage in 3D performance over the Celeron CPU seen in the older version. I wouldn't expect CPU performance to be better though.
HP are also offering a FullHD and touch option for the HP Chromebook 14. Entry pricing is $299 which is the same as the old version and it will be available, at least in the USA by the end of October.
Ports: Full HDMI, Micro SD card slot. 2 USB 2.0, 1x UBS 3.0. Options: 4 GB RAM, 32 GB SSD, Full HD screen, touchscreen. Other options may be available on a project basis.
It looks like HP are fitting their Chromebook to vertical market requirements where only one or two web apps are run at a time, where moving parts can be an issue and where mid-day charging creates problems. The Full HD and touch options are interesting but as there's no IPS screen perhaps the 4GB and 32GB options will be more popular.