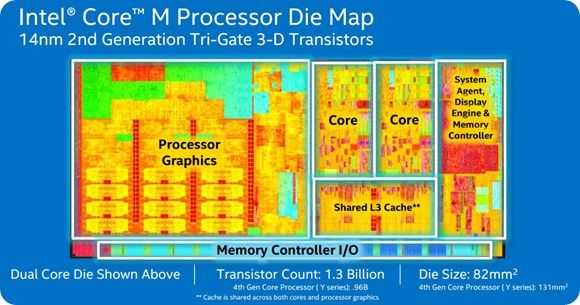 The Intel Core M processor, officially launched last week, offers Ultrabook performance in a processing unit that's about half the size of the current CPUs found in Ultrabooks with a 6W TDP profile. What does that mean? I've seen it benchmarked to Ultrabook performance levels on an 680gram fanless tablet. It works!
Rather than offering something that will compete with Ultrabook-style processors though it opens up a new area of fast processing and graphics performance for new types of computing devices. Fanless set top boxes, tablets, thin 2-in-1's and extremely mobile laptops. At IFA and IDF over the last two weeks I got a good idea of where it sits, what it can do and got a sneak peek at some benchmarks and some of the products.

If you remember Lenovo 11S foldable 2-in-1 you'll have an idea of where Core M fits. The original 11S ran on a 'Y-series' Ivy Bridge CPU that introduced the idea of 'scenario design power.' SDP was very much smoke, mirrors and a useless metric for consumers but it was the first step towards Core M. The Haswell variant brought some great battery life and a few early fanless 2-in-1s. Core M takes that idea and wraps it in fresh marketing. The improvements over the last generation 'Haswell' variant are potentially quite large with around 50% performance improvements in CPU and GPU and a new audio codec that takes load off the CPU and improves battery life for video playback. I say 'potentially' because getting the best performance out of Core M relies on good system design. Casings need to be high-grade machined die-cast aluminum to have a chance of pulling the best out of Core M. Pressed aluminum cases may only support lower-power configurations of the new 5Y10 Core M CPU.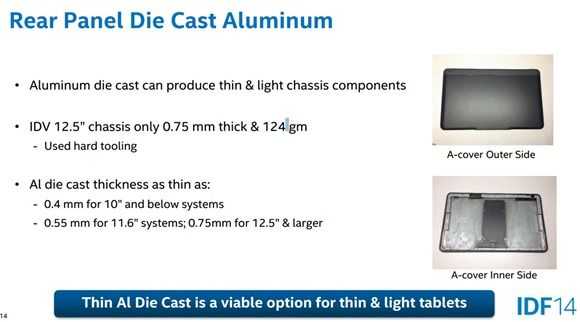 Intel's Core M 5Y series (5th generation Core, Y-series) is currently available in three versions at 4.5W TDP.  The high-end 5Y70 version comes in with the highest, 2.6Ghz Turbo clockrate which will offer short-term CPU performance similar to that of Haswell Ultrabooks. This VPro-enabled Core M is not likely to appear in consumer products though so you'll have to consider the 5Y10 which has a base clockrate of 800Mhz and a Turbo Boost clockrate of 2.0Ghz.  In this Core M SoC 60% of the CPU performance is dependent on Turbo Boost which, in turn, is dependent on thermal headroom. If the device is hot, Turbo Boost may not be able to offer the full 2Ghz performance. Expect a wide range of CPU performance figures for Core M tablets and 2-in-1's.
The GPU design has changed slightly in Core M. There are now 24 execution units which, were told by Intel, can offer up to HD4400 levels of graphics power. Again, there's potential for Ultrabook levels of performance, if the thermal characteristics allow it. The naming of the graphics unit is a little confusing. The HD5300 is not an Intel Iris GPU (HD5100 and HD5200 are!)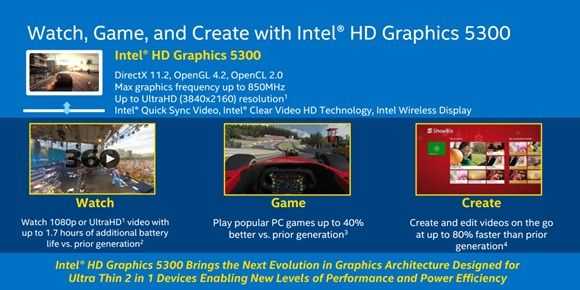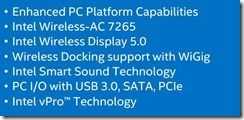 A new Intel Smart Sound audio subsystem provides hardware decoding of hardware and supports either DTS or Wavelabs sound enhancement and virtualization processing algorithms in hardware. Dolby processing could be coming soon. Wireless Display 5.0 adds a few small improvements over WiDi 4.0, there's talk of WiGig wireless docking and AC-7625 WiFi support (which won't be exclusive to Core M products of course) and of course that VPro option that was mentioned above.
Core M performance testing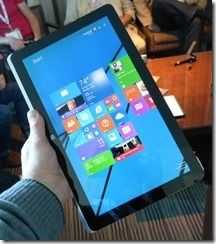 In an Intel-guided performance testing session at IDF we were given a peek at the maximum performance of the Core M CPU configured as a 6W TDP part. (Note that products are currently launching with a 4.5 TDP configured part.) Intel also explained the importance of casing design and showed us a pressed aluminum case that could handle the 4.5 TDP configuration, a machined aluminum back casing that could handle a 6W TDP part and an interesting copper casing that could handle up to 12W TDP.
The Intel Core M 5Yxx in the Llama Mountain reference design with machined aluminum rear casing was configured for 6W TDP (I am assuming that this changes the Turbo Boost algorithm for longer periods at higher clockrate as the maximum clockrate is the same 2.6Ghz as on the 4.5 W TDP VPro-enabled part) and we saw the following results…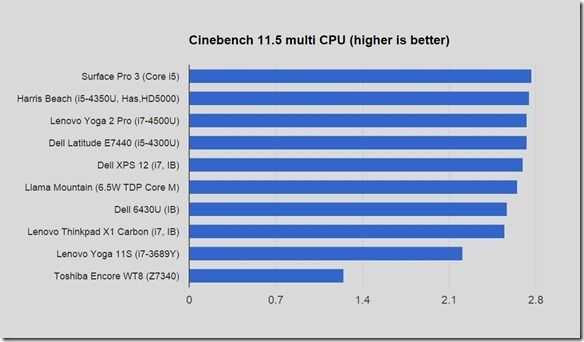 Llama Mountain with Core M: Cinebench 11.5 multi CPU: 2.65. (20% better than Core i7 Ivy Bridge Y-Series on Lenovo Yoga 11S)
Llama mountain with Core M: Ice Storm Extreme score:  48230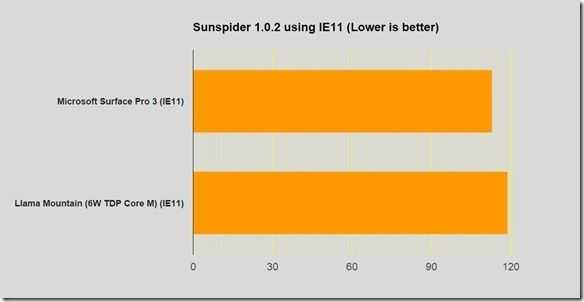 Llama Mountain with Core M: Sunspider (Single thread on IE11) 119ms
The Core M SoC provides the capability to vastly improve the CPU, GPU and A/V decoding and encoding performance over the 4th-generation Core Y-Series SoCs but the key take-away is that a lot of that performance relies on good thermal design. While raw Core M performance figures might be a good guideline it's the per-product Core M performance figures that will be more important. The first of those products will be coming soon but in a quick test on the Lenovo Helix 2 under battery power I saw locked-down performance. Under mains power I saw much better performance.

Core M designs coming soon.

On the image above: Acer Aspire Switch 12, ASUS Transformer Book T300FA, HP Envy x2, ASUS Transformer T300 Chi, Lenovo Thinkpad Helix 2, ASUS Zenbook UX305, Wistron N-Midas.
We saw the ASUS Zenbook UX305 at IFA. It's slick, fanless and designed like a next-gen Ultrabook. There's a 45Wh battery inside and it weighs just 1.2KG which is great for a 13.3-inch laptop with that battery size.

The Lenovo Helix 2 is another Core M product we had hands-on with. The hands-on video is coming as soon.
The Asus Transformer Book T300 Chi is a showcase for Core M with its 680 gram tablet…
The HP Envy X2 is a different kind of 2-in-1…
I didn't quite get hands-on with the Acer Swtich 12, but Nicole from Mobilegeeks did….
As for the rest we'll probably have to wait until they launch for more details but we're hoping to get the first Core M product in for testing soon. The only problem we have until then is whether to cover them here at Ultrabooknews or over at our sister site, UMPCPortal.


Ultrabook, Ultra Mobile or Ultra Dynamic?
Core M, in this generation, defines a category of devices that span consumer tablet to Ultrabook with enough performance to satisfy customers who need the best of consumption along with a pro-sumer level of content creation capability. It's the third generation of Y-series processors and if combined with well designed products can finally allow Core to provide a quality fanless experience. Core M is a highly dynamic CPU ranging from Connected Standby to desktop gaming although it's important to note that much of Core M's performance relies on it having breathing space. The future will bring improvements and now that Y-series has a marketing budget we expect to see that happen in a very public way. 5-8 devices are expected to launch in Q4 2014, CES is likely to bring more so stay tuned both here and at UMPCPortal.