Chromebooks hit 1 million sales in Q2 of this year and we expect that number to rise sharply after the Q3 'back to school' numbers are in because that's where Chromebooks appear to be having their biggest impact. 42% of Chromebook sales are in the reseller space.
In a presentation at the Intel Developer Forum last week we saw Intel's vision for Chromebook differentiation. Obviously they highlighted all their platform advantages including media decoding, low power states, fast start, wake-on-wireless and wake-on-voice.  Intel also highlighted the security model that most of us are at least aware of by now. It's that, Power-Wash and remote management that appear to be attractive for businesses, education and even the health sector.
Outside the commercial market though there's little interest in Chromebooks. Just 5% of retail notebooks under $599 are Chromebooks.
Skype, video editing, offline usage, apps, games and just simple design and compute capability are lacking for consumers although based on the response we got on Chromebook news coming out of IFA we'd say there are a lot of eyes watching and waiting.
Further information from Intel gives hints as to whats coming though and it looks interesting. Citrix have already announced that they will issue the Citrix Receiver as a 'native' app soon and this will please system admins the world over as it gives them access to the screens of other types of PC.
No date was given for availability but Intel have just written this in a blog: "Citrix Receiver for HTML5 is available now with Citrix StoreFront. Citrix Receiver for Chrome will be available later this fall and will be pre-installed on select models of Chromebooks, Chrometops, etc." [source]
Intel pushed the Pepper APIs for Native Client further with this very interesting slide.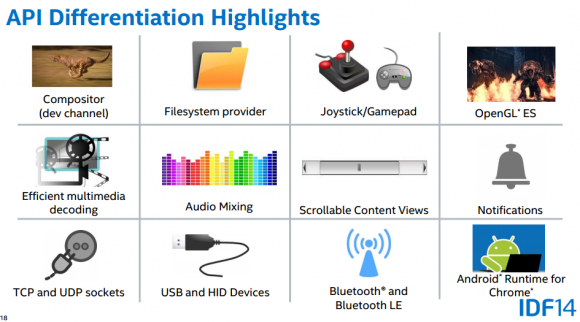 Two elements on this slide stick out. Firstly the focus on gaming with control and OpenGL but take a look at the bottom right. Android Runtime for Chrome is mentioned.
Over the last week we've seen the first native apps for Chrome OS. Evernote, Duolingo, Sight Words, and Vine are available in the store and Google say this is part of the "App Runtime for Chrome" project but what's the Android Runtime for Chrome that Intel highlights? ArsTechnica call the App Runtime "an entire Android stack built in Native Client." Given that there is still some hand-holding needed to bring apps over to Chrome it does look like the App Runtime is going to turn in to an instance of ART. It doesn't take a great deal of imagination to see what could happen next. Sandboxed Android apps in Chrome will change the game completely. Questions must be raised about security of course (more lines of code means more room for error) but wouldn't you like to see Skype running ASAP?
Other Intel / Chrome news
A session on HTML5 / javascript with SIMD extensions was held. I attended this but it was a little over my head (i'm not a JS developer.) The message was clear though. Using SIMD extensions, HTML5 / javascript can be speeded up to near native C++ speeds. Impressive. If you want to find out more about this see the PDF presentation here.
And finally, Intel highlighted their work with pre-validated Chrome OS designs that make it cheaper and quicker for OEMs to get to market with Chrome OS products.