This is the competition for 8-inch Windows tablets in the consumer space, and it's good. Thin, fast, full HD and coming with an LTE voice and data option for an extra 50 Euros.  The Lenovo Tab S8 runs Android KitKat on an Intel Atom Z3745 quad-core CPU.
I had an overnight session with the Lenovo Tab S8 before the Lenovo press event at IFA today and I was really impressed with the value-for-money. Like Windows 8 tablets it's not something you'll slip into your pocket but  it's thinner and lighter than any Windows 8 tablet. The Full HD screen looks bright and punchy and there's a familiar user interface.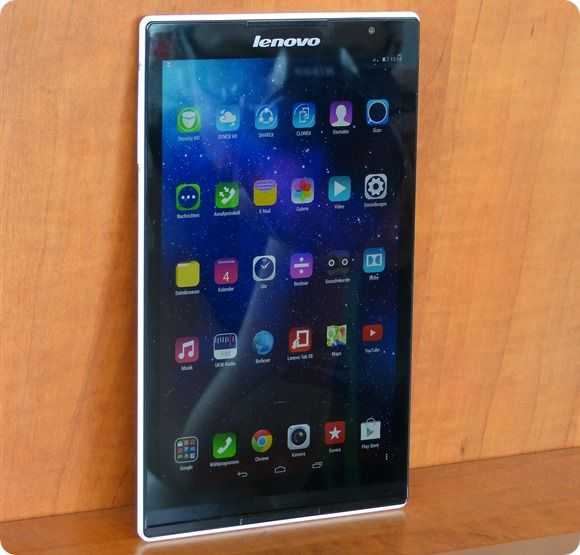 In terms of performance browsing felt really fast although it seems it's attributable to the LTE I was using at the time. A Peacekeeper score of 1055 is slightly less than we see on Windows and that could be due to browser capabilities although I did use Chrome for the test. Sunspider came in at 668 ms and the Octane Score was 5406.
The 8MP camera my not be up to the standards of the latest smartphones but it's not bad and it beats most Windows 8 tablet cameras I've tested. There's an FM radio and, in the LTE version, voice calling, SMS and of course, data. The dual front-facing speakers are loud and clear.
There's no HDMI port but you've got the standard MicroSD, MicroUSB and headset ports.

There's no substitute for a full review to find out if the Lenovo Tab S8 is as good as it seems but when it comes to consumers, maybe that's not the point. The specs are good, it looks good, Android is good and when that full HD screen is popping at the local mall it's going to look irresistible at $199. The jump to LTE at 250 is something I'm considering myself given that there are few Windows LTE options available and none at this price.
While 'adventurers' know and care about the difference between Windows and Android when it comes to your average consumer, the Lenovo Tab S8 is going to be a lot more appealing. Here's my Lenovo Tab 8 image gallery. The video is embedded below…