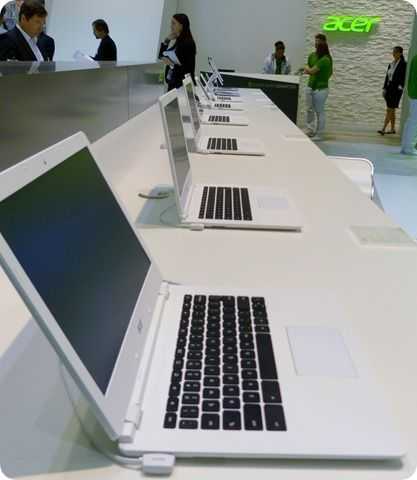 The Acer Chromebook 2 CB5 with 1920×1080 screen qualifies, today, as the cheapest full HD screen laptop ever. For a crazy $249 in the USA (and this is very much a USA exclusive) you'll get this lightweight Chromebook with 16GB storage and 2GB RAM. The Acer CB5 Chromebook is now number 4 in our Chromebook charts, and rising fast. [Acer Chromebook 13 CB5 Specifications and info here.]
Reviews have been mostly positive about the Acer Chromebook CB5 with a lot of focus on the design and a lot of talk about the Nvidia Tegra K1 CPU which promises great graphics performance. The only problem there is that ChromeOS users are largely using CPU-bound processes and the Tegra K1 offers only low-average CPU performance scores. A Peacekeeper score of 1255 points [Notebookcheck review] is nothing to get excited about.  The Acer CB5 is not going to beat the (cheaper, 1366×768) Acer C720 in any performance tests.
Acer Chromebook 2 CB5 at Amazon.com for $249 – full HD screen.
The Acer Chromebook 2 CB5 offers impressive battery life (10 hours of full HD browsing) for the price but it's mainly the design and the Tegra K1 marketing that, in our opinion, is carrying this forward. It's an all-round well-balanced Chromebook and (let's get back to the main topic here) offering a Full HD screen for just $249 which can't be beaten.
The competitor on the horizon though, offering a desirable IPS full HD display and 4GB RAM, is the Toshiba Chromebook 2 CB35 B3340. If that get's a discount to $299 later this quarter it will be the one to go for. Even at $329.99 it's looking like a great full HD option.
Our hands-on with the Acer Chromebook 2 CB5 is below and you can also watch an interesting mainstream-focused presentation from Twit.tv. Leo Laporte's review can be considered the typical mainstream review of the Acer Chromebook CB5. He seems happy with it.
Acer Chromebook 2 CB5 at Amazon for $249 with full HD screen.