Every Windows 8 tablet I've tried recently supports Miracast but I rarely use it because it's never plugged into my TV. I've thought about getting a cheap stick I can leave in the living room TV but never really got round to it. Now that the $39 Amazon Fire TV stick has been announced though I think the solution will be a no-brainer.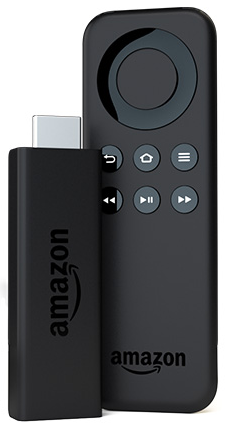 Update: Miracast support has been delayed but Amazon have confirmed that it's coming soon.
Like Chromecast, the Amazon Fire TV stick can be directed to pull content from the Internet. It can handle protected content from Netflix, Hulu, Pandora, Amazon Video and other streaming services and it's got a partner app for Android-based phones that allows you to select content. Unlike Chromecast you won't have the capability of directing content from a PC desktop like you can with Chrome but you will have Miracast – something that Chromecast doesn't officially support.
Miracast is primarily a screen mirroring app but can be used to extend a screen which makes it useful for wireless tablet-controlled presentations. Miroring content from a powerful PC can also have advantages if you're using rare codecs. Don't expect a Chromecast or Fire TV Stick to handle Hi10p for example.
Amazon are pushing the Fire TV Stick as a high-performance solution so it could make it one of the more reliable Miracast solutions at this price level. I'm not sure it supports WiDi extensions though. The unit is based on a dual core CPU (Broadcom Capri 28155, dual-core 2xARM A9) with 8GB of storage and has 1080p and 7.1 channel Dolby Digital Plus support. With dual-antennas it also supports dual band WiFi a/b/g/n operation. There's even a Bluetooth module inside for HID, HFP, HPP profiles so it shoud be possible to control this over Bluetooth and that's possibly how the included remote control works.
It's adding up to a good value package for many Windows 8 PC and tablet owners. At $39 it's the perfect gift and if you're an Amazon Prime user (or if you take a 30-day trial now) you can have the unit for just $19. (Amazon.com link)