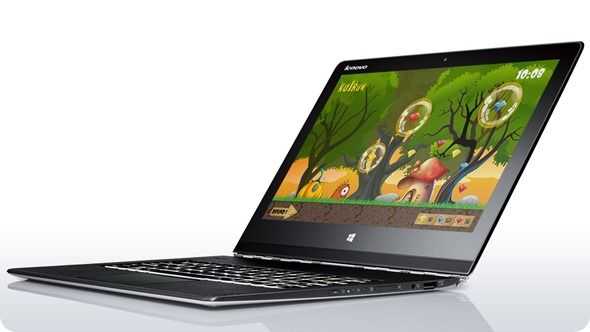 The Lenovo Yoga 3 Pro launched last week and has been handled by enough people now for us to get an idea of the performance of the Core M platform and the quality of the product. It's the worlds-thinnest 2-in-1 and weighs just 1.19 KG which, for a 13.3-inch convertible is quite impressive. Lenovo have squeezed in a reasonably sized battery and there are a few other highlight features too.
Worlds thinnest 2-in-1 at 1.19 KG.
13.3-inch tablet at 1.19 KG.
813 pieces in new hinge design.
QHD+ (3200 x 1800) 10-point multitouch screen.
AC Wi-Fi.
DC-in with USB function combined on one port. (2 other USB ports available too.)
JBL speakers and Waves Audio hardware. [Waves audio is implemented in hardware on the new audio subsystem.]
44.8 Wh battery.
256GB SSD and 8GB RAM on base model .
Core M 5Y70 supports VPro and higher Turbo/base clock speed.
Lenovo have used a Core M SoC inside the Yoga 3 which reduces mainboard size and thermal space requirements. It allows them to make this 2-in-1 incredibly thin for a touchscreen convertible. A new hinge mechanism, made from hundreds of watchband-like components, helps keep the dimensions down. It looks somewhat 'blingy' and one must also question the durability of 851 separate components working together as a single hinge.
I've been in touch with Mobilegeeks.de who are testing the Yoga 3 Pro now and have written up their first impressions (in German) I wanted to find out more about the fan. Yes, a fan is included with the Yoga 3 Pro. In some respects that will be a good thing as it increases the thermal 'space' for Turbo Boost to work. Over 50% of the CPU performance of Core M relies on their being enough scope for heating up as it overclocks. If the temperature is already too high or rises too quickly, Tube Boost can turn off and you're left with a 1.1Ghz CPU which  has nothing like the power of the previous Yoga 2 Pro.
In this Core M SoC 60% of the CPU performance is dependent on Turbo Boost which, in turn, is dependent on thermal headroom. If the device is hot, Turbo Boost may not be able to offer the full 2Ghz performance. Expect a wide range of CPU performance figures for Core M tablets and 2-in-1's. (Source)
Roland, the reviewer over at Mobilegeeks, points me to a forum thread on Notebookreview where there are benchmarks and evidence of throttling in tablet mode and in multi-threaded CPU tests. This confirms my worry about Core M. Intel can show nice high-speed tests in optimized casings but it's up to the manufacturer to create the balance between size and performance. Having said that it's disappointing that even with a fan and the high-end Core M 5Y70 the Yoga 3 Pro is not performing like and Ultrabook.  In the Mobilegeek Cinebench 11.5 multi-cpu test the Yoga 3 Pro scored just 2.08 which is less than the Lenovo Yoga 11S with the Core i7 Y-series from last year and less than the original Lenovo Yoga 13. This is not a good test result. Here's the performance figure slotted into our Ultrabook performance table.  Note that the cheaper Surface Pro 3 wih Core i5 U-series is going to bring you nearly 50% more CPU power.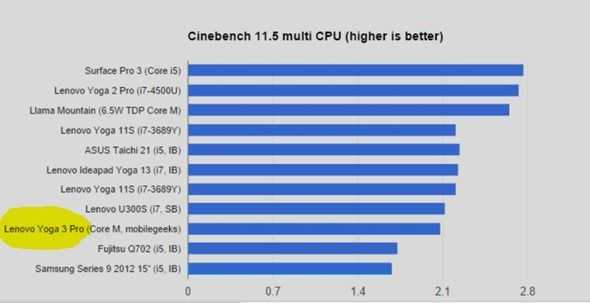 Lenovo Yoga 3 Pro Cinebench 11.5 multi-CPU test result. (Result by Mobilegeeks.de)
The Mobilegeeks first impressions review is here. (translated) and you'll find positive comments about the keyboard and build, the screen and the weight. There are also positive comments about battery life which can go up to 9 hours in video playback mode but there are definitely issues to consider here.
Lenovo Yoga 3 Pro Issues summary
Time will tell if the hinge is strong enough.
Hi-DPI screen not supported by some desktop apps.
High entry-level price.
Performance less than Yoga 2 Pro
No function key row.
Not fanless.
This is a bad start for Core M and if we see this confirmed on other devices we'll be moving coverage of the Core M products from Ultrabooknews.com to our ultra-mobile focused sister site UMPCPortal.com
Thanks to Roland for answering our questions. Here's his unboxing video…