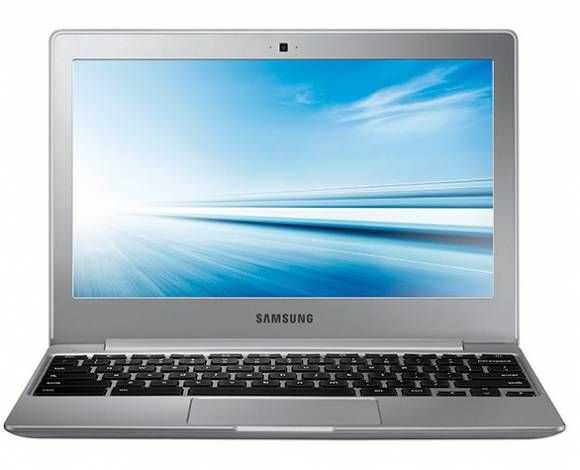 The 11-inch  Samsung Chromebook 2 update is official in the USA. Samsung have a product page (videos too) and  reviews from some big tech websites are already out there.  This upgrade from Samsung's Exynos ARM-architecture CPU uses the Intel Celeron N2840, brings AC WiFI and gives you a free software pack. It costs $250 and looks like it could be very popular in Q4. It's still fanless, still has the 30Wh battery inside and the design remains the same.
This 11.6-inch 1366×768 Chromebook design has been popular over the last year. There are nearly 5000 customer comments on Amazon.com (USA) which is an incredible figure. Average review quality is 4 out of 5  there. Below you'll see a video showing some internal features of the Samsung Chromebook 2 with Intel Celeron which is an interesting inclusion for a launch-site. Samsung are promoting build quality which tells us that they want to push further into the education market that Chromebooks are focused on. For consumers it's a bonus!
Samsung's promo video though is clearly an Intel/Samsung collaboration and while it's great to have a well-produced overview it's not good to see incorrect information. The 'SSD' inside the Samsung Chromebook 2 is soldered-on-motherboard eMMC but the video shows a big SATA 6GB/s drive with…take a look.
More details: Samsung Chromebook 2 with Intel Celeron N2840.
You won't see that level of disk performance on the Samsung Chromebook 2 with the Celeron CPU. Expect performance that will kill the avarage 2-year old HDD but don't expect thae 475/350MB/s indicated on the video.
Included with the Samsung Chromebook 2 is a software pack. Air Droid Premium allows you to manage your Android devices. Wunderlist Pro is an excellent group task manager (we use the free version amongst our team) and Little Bridge looks like a nice English learning program for kids. 
With the stitch design, AC WiFi, a better web experience, 6-8 hours (productive Wi-Fi estimate) battery life, the existing community confidence in the design and a free software pack the Samsung Chromebook 2 with Intel Celeron looks to be one of the highlight Chromebook products of Q4 2104.  We're tracking the product here. Click through for full specs, links, gallery and discussion. You'll also find a list of similar devices.
Here's the naked Chromebook teardown video. Also available here if it doesn't show below.
We're adding review links into the database.
Latopmag have a good review. We're adding more to the product page.