Over the last three weeks I've been working with three laptops and a number of phones while travelling across the width of Europe. I sit down here now with just two items. The Nokia Lumia 830 and the Acer E11 are the perfect low-cost partnership for multimedia reporting, weighs just 1500 grams including cables and, thanks to Windows 8 and Windows Phone 8, work very well together. The total cost of the setup is just $500.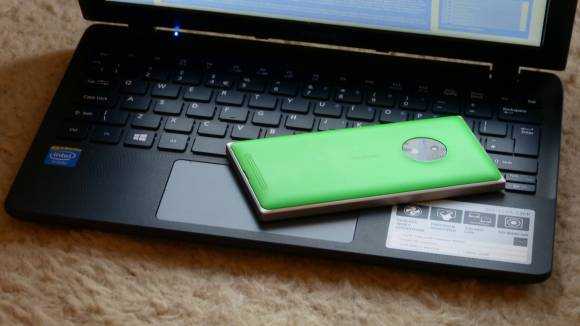 I had a feeling that the Nokia 830 and the Acer E11 would be perfect for the job I've done over the last three weeks. I've trained young journalists in Ukraine where their monthly salary is just $200 and they can afford a low-cost laptop once every 4 years on average. They need to be mobile, connected, secure and multimedia capable and their old netbooks, some even running Windows XP, are due for an update. Chromebooks aren't capable enough for these journalists so the best option is an 11.6-inch Windows laptop. For images, audio and video the only entry-level option is the Lumia 830. I also had a Lumia 930 with me but it's too high-end for the target audience and the quality of the photo/videography on the still 830 beats much of what is used from their existing smartphones. Android is popular mainly due to having the best choice of chat and social networking apps but the Lumia 830 offers all that they need. I also had a Surface Pro 3 and a Chromebook with me but neither of those fits the bill. While the Chromebook is the best option for writing articles from a public hotspot (with HTTPS Everywhere and the Zenmate extension turned on) it can't handle local image management very well. It's a no-go when it comes to video too. While the Lumia 830 can trim, sequence and re-encode video clips it's highly possible that the modern journalist needs more. PGP email encryption and Pidgin Messenger with OTR are also no-go areas on a Chromebook.
This low-cost setup isn't just about low-income mobile reporters though because it's a capable set of equipment. It's simply at a price bracket that wasn't possible a year ago so it opens up mobile computing to a huge range of people including students, low-income families and people, like myself, that don't like to overspend on equipment. At about $20 per month over a 2-year period, this $500 setup is something that can even be a secondary 'on the road' kit for those that don't want to be taking their $2000 setup with them. It's a holiday kit, a train kit, an exhibition kit and training course kit.
Nokia Lumia 830
I've been very impressed with the Lumia 830 over the last three weeks. The image and video quality is excellent even if it has noticeably lower quality than the Lumia 925 or 1020 that I've also had. There's a little light bleeding and flaring from off-frame light sources in some cases but the colors seem quite honest and it's more than good enough for online usage. The flash is slightly lacking so for low-light photography the 1020 would be better but having said that, I was quite happy with the results I had in low-light without flash.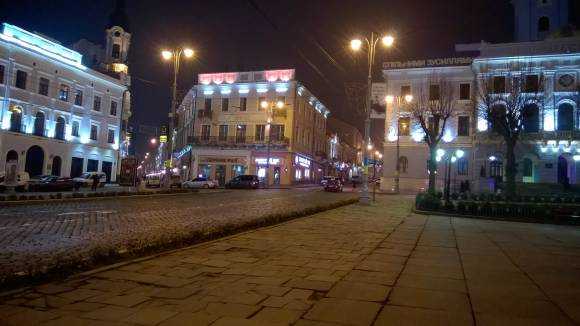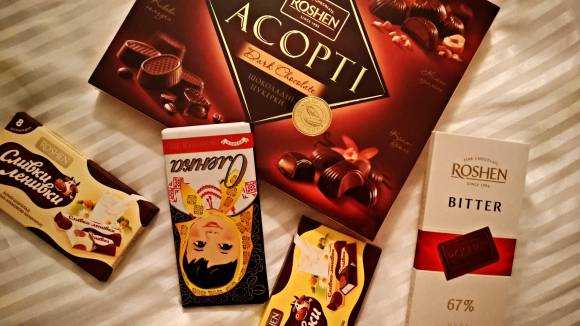 Daylight images are also good enough for publication…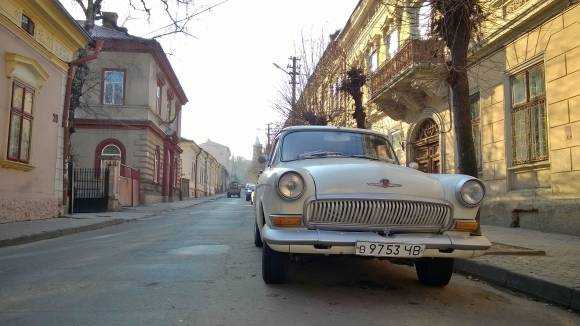 And here's an HDR Photo Camera application shot…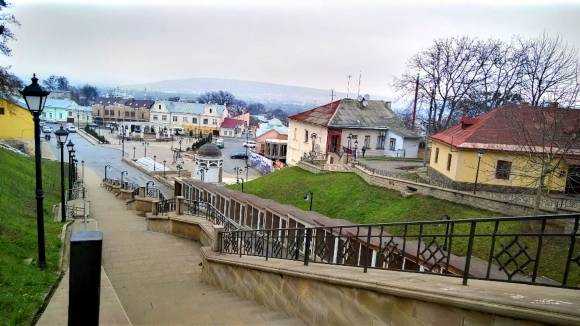 Audio quality is good from the microphones and video stability is impressive thanks to the optical stabilizer – a unique feature at this price which makes the Lumia 830 the best full-HD smartphone video camera there is, in my opinion.
Phone reception is spot-on and, once I had tweeked a few settings, I was getting 36-48 hours out of a charge which is better than my Lumia 1020 did. Performance is good and I had no problems with Web browsing speeds although the sunspider 1.0.2 scores are not class-leading at 1200 ms. Sizing is perfect for me and I like the removable battery and accessable MicroSD card slot. The snap-on rear cover is a little fidgety though.
One area where the Lumias score highly is in mapping and nvaigation. Offline maps are perfect for mobile users without continuous data availability and Here Maps came into its own while checking that our driver was taking a direct route between towns that we visited during our training in Ukraine. Points of interest appeared to be reasonably up to date.
When using public WiFi I like to make use of a VPN service. I've used HideIPVPN's UK tunnel service and it's been great. VPNs aren't stable on this Windows Phone 8 however. I often saw lock-ups while trying to reconnect to WiFi with VPN enabled although once it was working it was stable. Other aspects of security and privacy are controllable but it's difficult to find all the setting hidden in the Windows 8.1 phone operating system.
I used the OneDrive photo sync capability on Windows 8 Phone and it integrates well with OneDrive usage on Windows 8 laptops meaning you don't have to connect the phone to get photos once you've had enough internet connectivity for images to synchronize. Bluetooth file transfer works well for the occasional shot too and of course you can always connect the USB cable if you need to. It's that flexibility that helps make Windows a bit more useful than Chromebooks in some situations.
Overall I am really happy with the level of value, performance and quality available from the Lumia 830 and Windows 8 Phone. Prices are around $380 in the USA but much cheaper in the EU with prices in some countries lower than 300 Euro (250 Euro for businesses that don't pay value-added tax.) UK prices are a little high now at 270 pounds but I expect this to drop to euro pricing levels soon. The Lumia 925 is also dropping in price but given that future operating system updates may not reach that one (consider Windows Phone 10 in 2015) the Lumia 830 is probably the better choice.
Acer Aspire E11 (ES1-111M)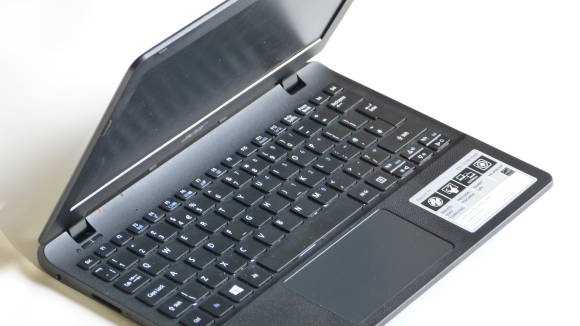 The Lumia 830 was launched as a 'budget flagship' phone but the Acer Aspire E11 is nothing more than an entry-level Windows 8 laptop. It's light (1.2 KG, the same as a Surface Pro 3 with keyboard cover) and silent but it comes with a few compromises that you need to know about before buying. There's only 32GB of on-board storage, a cheap plastic casing and a non-IPS 1366×768 screen. I don't have a problem with any of those 'issues' but some might. I occasionally have an issue with the processing power though as the N2840 isn't really 'desktop' capable. Office runs, PowerDirector 12 runs and browsing speed is totally acceptable but if you're coming from a 'Core' laptop you'll notice the difference. For bloggers and multimedia journalists it will mean that you'll have to be careful about how you work with video. Fortunately there's a video trimmer and simple video editor on the Lumia 830 that will help. Image editing on the Lumia makes sense too. The Acer E11 is good enough that it can be used as the place where all the media comes together and I'm happy to say that the keyboard is good enough for long sessions of typing. the touchpad, however, is a little temperamental. It's locked up on me twice and responsiveness can tail off sometimes. Two-finger scrolling isn't smooth. Clearly there's a firmware or driver issue here that needs sorting out.
A full-size SD card slot (not deep enough to hide a card permanently) is provided along with two USB ports (3.0 and 2.0) and a useful Gigabit Ethernet port. A full-size HDMI port provides digital A/V output and Miracast wireless display is supported. Battery life is great – 9 hours in this typing situation. You'll easily get 6 hour browsing out of this and about the same when watching H.264 videos using the Windows 8 Video player.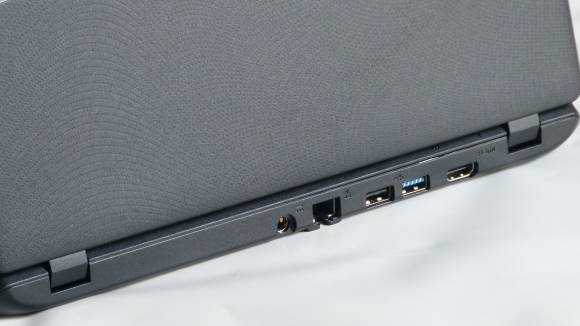 Unfortunately there's no way to upgrade the storage (a more expensive model comes with a 500GB hard drive that could be swapped for an SSD but I'm happy with the extra security of a soldered SSD. I've enabled SecureBoot and added a BIOS password that should keep my data safe if the laptop is lost. The RAM can be upgraded after dismantling the mainboard from the casing. [Video unboxing includes mainboard removal here.] The plastic casing might look cheap but I get the feeling it's quite rugged and it stays very cool.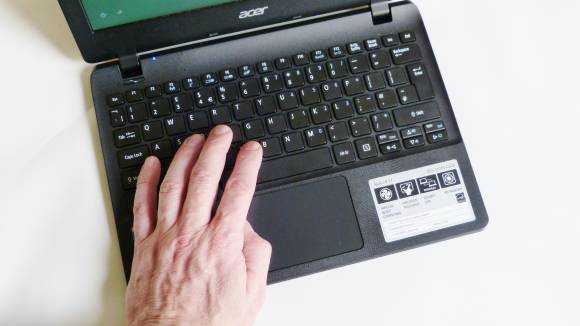 The Acer E11 certainly has its limits and these can be obvious if Windows 8 is doing some background work with its anti-virus, updates or indexing but once that's out-of-the-way (the first few days with the E11 were certainly worse than now, 4 weeks on) it's a smooth experience and well ahead of the sort of laggy experience we had on netbooks of 2008-2010, thanks to a relatively fast eMMC SSD. Remember to keep the system clean of large files though and you might want to limit Windows updates to essential security items only.
100 GB of free OneDrive storage (2 years) was a welcome bonus and once you get used to using OneDrive you probably won't run into storage issues. I've added a 32GB MicroSD card to the Lumia 830 and carry an extra card with me to be sure that I've got enough storage for my original source videos. A USB3.0 external SSD drive might be quicker when it comes to transferring data though.
I really like the Acer E11 but it's not the only option at the $200 laptop price bracket. I've got an HP Stream 11 here (being tested for Notebookcheck) and it's also looking like a good machine. The ASUS X205 is the other choice in this bracket. It runs a tablet platform and I believe it has disk encryption enabled although I haven't been able to confirm that. It's also a quad-core system and might be more powerful in some situations. Single core performance (applicable to web browsing) is higher on the E11 and Stream 11.
If you only have $250 per year to spend on computing and multimedia I can't think of a better-value way to do it than with a two-year strategy and the Nokia Lumia 830 and the Acer E11. The Lumia offers some of the best 1080p video for the price and you really can do everything on the Acer E11 if you've got a little patience. If you don't have much patience then it's a big jump up to something with more CPU power. $150 more will take you up to the N3840-powered (4-core) Acer Aspire V3-112P. (with touchscreen.) If you're ready to take a larger screen size (and weight) then the Acer Aspire V3-371 offers a Core i3 processor and a 13.3-inch screen but the price is well over $400. The other option at this price is the Lenovo Ideatab Miix 2 11 tablet PC with 128GB of storage, a Core i3 and full HD screen. Again though, this is in a different price bracket.
For those that want an Android smartphone instead of a Windows smartphone you haven't really got much choice because you really need to be looking at a phone with optical stabilizer. The LG G2 is an option but I haven't tested it fully to be sure that it covers all the ground that the Lumia 830 does.
Stay tuned for my thoughts on the HP Stream 11 (with touchscreen.) The non-touch version of this has been popular at Amazon.com and first thoughts are that it might have a better keyboard and touchpad.
Thanks Nokia for the loan of the Lumia 830 and 930. The E11 was privately purchased.