I bought the HP Stream 8 with 3G and the first video and first-impressions are ready for you. The video is below and if you're interested in a truly mobile PC (that is a handheld PC with mobile internet) then you'll need to watch this and think about this new class of sub-$200 3G-enabled Windows tablets. It's an incredible deal when you think about it because it was only a few years ago when we were forced to pay many hundreds of dollars more for a 3G/4G-enabled PC. Manufacturers only had cellular options on business-class devices and those options were always $100 or more. The HP Stream 8 not only has 3G included but includes a small amount of data free every month. 200MB goes quickly on a PC but you can add more or put your own SIM card in and really start to enjoy the benefits of Connected Standby. Using a Skype-in number, this tablet could be a phone. Using a turn-by-turn navigation program, an always-online navigation unit. It's a mobile hotspot, a great social networking tool and when Windows 10 launches there'll be a whole new life injected into it. It comes with one year of Office365 Personal, 1TB of OneDrive (1 year uploading, always available) and 60 Skype call-out minutes per month.
I want to be clear up-front about the memory included in the HP Stream 8. 1GB is not what I would recommend for Windows 8 and I have previously said that I would never buy a cheap Windows tablet with 1GB. When you consider that Windows boots up with 700MB of RAM in use it's not difficult to understand the problems caused when a few programs are started and memory is passed out to disk. Not only does performance suffer badly but the more desktop apps you regularly try to use, the bigger the Pagefile will be on your disk. With only 19GB free after boot-up there's no room for big files to grow even bigger.
Having said that, if you view these 1GB Windows tablets as 'RT' tablets where the primary use is through Modern apps and where the desktop is only for one-off use then you can work well within the limits of 1GB RAM. There are plenty of apps to keep you busy and entertained in there and with Windows 10 coming soon there will be a lot more as Universal Apps get deployed to work across phone, tablet and desktop screens.
The HP Stream 8 is a well-built tablet with thin bezels and a reasonable screen in terms of color and black-levels. There's a bit of light-bleed on the edges and the full brightness isn't perfect. There's no HDMI output but a MicroSD slot, Micro USB, headset and SIM-card slot are available. Some of those ports are hidden underneath the back which also exposes the battery (which isn't really a user-replaceable part.)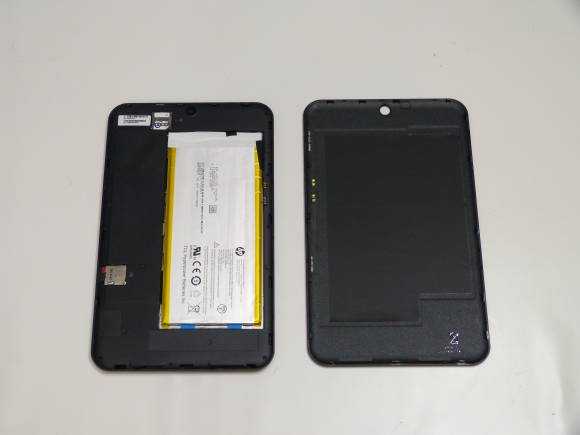 HP DataPass (Europe) Countries and costs.
The main question you probably have is about the 3G (not 4G on this German model) performance. Fogg mobile are the provider behind the roaming data offer and they've done deals with a number of carriers. Here's the list of countries included in the DataPass that comes with this tablet:
Great Britain, Ireland, France, Spain, Italy, Switzerland, Austria, Denmark, Sweden, Germany, Poland, Holland, Hong Kong, Finland, Belgium, Luxembourg, Portugal, Norway, Singapore, Malaysia, USA and Columbia. Some of those countries come online from the 1st Feb 2015.
You get 200MB of roaming data per month and you can also buy top-ups. One-off top-ups for monthly usage are as follows (costs from Germany.)
+ 500 MB 9,90 € inkl. MwSt.
+ 1 GB 11,90 € inkl. MwSt.
+ 2 GB 20,90 € inkl. MwSt.
+ 15 GB 99,90 € inkl. MwSt.
11 Euros for 1GB of roaming data really isn't that bad.
If you want a repeating monthly data boost, the costs are as follows
1 GB (Total 1,2 GB) 10,90 € inkl. MwSt.
2 GB (Total 2,2 GB) 19,90 € inkl. MwSt.
5 GB (Total 5,2 GB) 49,90 € inkl. MwSt.
These can be cancelled at any time and there is no contract to sign although some personal data must be given on registration.
The Huawaei 3G module is HSUPA+ capable which means a maximum of 22Mbps download speed. I saw 7Mbps down and 1Mbps up in a short test here at the office. Obviously performance is dependant on time and place. There's no SMS or voice ability but Skype works with Connected Standby (and presumably a Skype-in number) to function as a phone that would last a full day on a charge.

HP Stream 8 Unboxing and first-looks video.
In the video I take a look around the device, test a third-party SIM card, check disk usage, do some tests, talk about build quality and screen, test the speakers and a number of other things. It's a long video but worth watching if you're think about a low-cost 3G-enabled tabletPC.