I've tested this before but it needs to be done again. A sub-$200 8-inch Windows 8 tablet with external Full-HD screen, Gigabit Ethernet, a 256GB SSD, external sound module and USB keyboard and mouse all driven over one UBS 2.0 link. I'm using the HP Stream 8 here.
Here's the display set-up I'm working with now. IE11 (Modern) on the left with Bing News on the right on the main screen. On the tablet screen I have Tweetium running.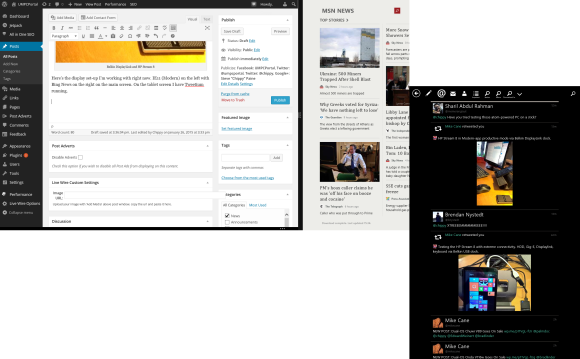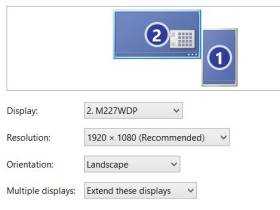 There's one major problem with this setup and that's power. You can't (easily) drive charging and USB at the same time and the load on the USB and CPU due to the DisplayLink solution pushes down the battery life. 20% battery per hour means you'll only get a maximum 5 hours out of this solution before you have to charge again. This is one of the reasons that many of the 10-inch Windows tablet solutions are more flexible than the 8-inch solutions. For example the Lenovo Miix 2 10 has both USB and charging ports.
Update: Pluggable have kindly offered to send over their Dell Venue 8 Pro data-and-charge DisplayLink docking solution for testing. I remain very suspicious of data+charge USB solutions but i'm prepared to run it on all the tablets I have here and report the results for you. Lenovo Miix 2 8, Dell Venue 8 Pro, Acer W4, ASUS Iconia Tab 8 and HP Stream 8 will all get a test. If  it works then we can remove this restriction (at a cost.)
Despite that limitation this is still an impressive demonstration of the flexibility of cheap Windows 8 solutions and remember that they go down to $100 now, which is less than the docking solution used here.
Connected peripherals:
256GB USB SSD (external)
USB Gigabit Ethernet (on dock)
USB DisplayLink adaptor (on dock)
USB keyboard and mouse (external)
USB audio module (on dock.)
In terms of performance there are also some limits to watch out for. Three Windows 8 Modern / Store apps work OK but if you start to add desktop apps it runs out of memory and starts using Pagefile.sys which is absolutely kills the performance to the point where you'll want to throw it out of the nearest Window. For a tweet or news-wall, a single Web app, a 1080p video or gallery it works well, until the battery runs out.  The video performance isn't perfect either. HDMI is always better than a USB solution. It's OK for writing, but not for video playback.
Let's look forward to the Toshiba Click Mini has 2GB RAM, two USB ports and a HDMI port. More expensive, but a better entry-level solution for this sort of flexibility.