Things are hotting-up in the 8.9-inch Windows detachable sector with Toshiba announcing something that's going to go head-to-head with the ASUS Transformer Book T90 Chi. The Toshiba Satellite Click Mini beats the T90 Chi on some specifications, but not on others.
At 1KG (2.2 pounds) exactly the Toshiba Satellite Click 2 with its docking keyboard isn't as light as the T90 Chi but there's a reason for that. The keyboard isn't just a Bluetooth keyboard but a true docking keyboard with USB port, charging port and battery. Video playback battery life is quoted at 8hrs for the tablet and 16 hours with the dock. This looks like the perfect seat-back companion for international flights. Expect a little less on web browsing but 12+ hours should be possible if the Click Mini falls in line with what we've seen on this platform from other products.
A Toshiba Click Mini video playlist is embedded below. Full specifications, images, videos and more in our database.
A HDMI port (on the tablet) is very welcome as is the 1920×1080 IPS screen. A 5MP camera (autofocus) should be enough for an occasional social snaps and there's a 2MP front cam for Skype. (60 Skype minutes per month is included with the free 1 year Office 365 / OneDrive package.)
In terms of storage you'll only get a 32GB eMMC flash drive but the good news on the storage front is that there's a microSD port (128GB-capable) on the tablet and a full-size SD card slot on the keyboard dock. Mobile photographers will love that.
The tablet is going to fee l a little on the heavy side compared to others in the 8-inch class (the Lenovo Miix 2 8 weighs only 350 grams) but the extra size means it's about as dense as the others at.  Speaking of sizing, how does it compare. I've put together a composite image of three devices to scale in the image below.
The keyboard is 8.5mm deeper than the tablet but it's the same width. Again, here's a rough idea of the size for you. That's a Microsoft Wedge and an Acer W510 (10-inch) keyboard there so beware, the keyboard is going to be very tight.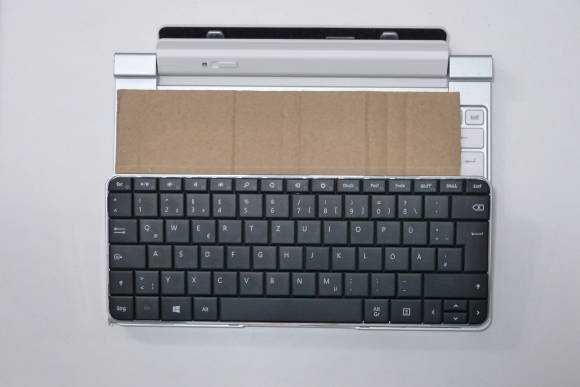 Toshiba Satellite Click Mini specifications
Display: 8,9 inch WUXGA IPS-Display (1.920 x 1.200) 10 -point touch.
Windows 8.1 Update with Bing
Intel® Atom™ Z3735F Processor
32 GB eMMC SSD
2 GB DDR3L RAM
WiFi:802.11 b/g/n, Bluetooth 4.0, Wireless Display
Tablet: 1x Micro-HDMI-out, 1 x Micro-USB, 1 x MicroSD, 1 x headset
Keyboard : 1 x USB 2.0, 1 x SD-Slot
Microsoft Office 365 Personal (1-year), Skype, Toshiba TruCapture
Sound: Dolby Digital Plus
Webcam: 5 MP Full-HD with Autofocus, 2 MP HD with integrated mic. (front)
Size: 235 x 161 x 9.8 mm (Tablet) / 235 x 170.6 x 19.9 mm (Laptop)
Weight: Tablet: 470 grams/ Laptop 999 grams
Color: Satin Gold or Perl White.
Availability is planned for Europe (Germany and UK are confirmed) first and the white version will be available in Q1 2015 with the gold version appearing in Q2. Pricing starts at a very impressive 299 Euro.
Although the ASUS T90 Chi looks nicer, is lighter and has a faster (theoretically) processor the Toshiba Click Mini has the battery, HDMI and SD card slots. As for the display resolution it depends on how good your eyes are. Full HD on such a small resolution could cause problems with some programs under Windows desktop, despite scaling capabilities.
Toshiba UK press release. Full Toshiba Satellite Click Mini image gallery.
Hat-tip: Liliputing