Intel are going to introduce the next generation of mobile processors under new Atom branding. Atom x3, x5 and x7 will be used to differentiate features bringing it in line with the way that Core processors are branded with i3, i5 and i7.
An infographic just released by Intel gives us an overview of the target markets for Atom and Core brands after the new products are introduced. Unfortunately there isn't much detail available but we've uncovered a couple of snippets for you below.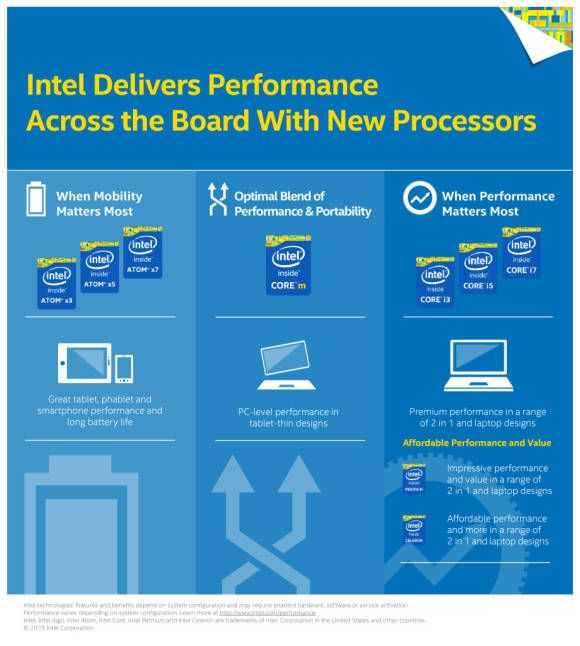 Starting with the next generation processors, Intel Atom will be offered in three distinct brand levels — the Intel Atom x3, x5 and x7.  Intel Atom x3 processor provides basic, but genuine Intel level tablet and smartphone performance.  Intel Atom x5 processor has more capabilities and features for consumers looking for a better experience and the flagship Intel Atom x7 processor provides the highest level of performance and capabilities for the Atom family.   With this simplified structure, choosing a tablet will be much easier as relative level of performance and experience delivered from the processor will be easily identified.
A press conference is planned for Mobile World Conference next week so we are going to hear more details soon but for now we can be sure that the next-generation (Cherry Trail) processors will sit under this brand along with platforms with integrated LTE modems for smartphones. Consider this a kind of Baytrail-T / Z3000-series re-branding in the sector where products go up to 11.6-inches.
Interestingly it now looks like the new ASUS T90 Chi and T100 Chi with high-end Baytrail-T CPUs won't be available before the new Atom x3, x5, and X7 products are detailed. Awkward! Unless ASUS are holding back on purpose?
Note that Intel mentions a Z8000 on a linked page from the press release and connects that with Airmont (the 14nm next-gen mobile architecture used in Cherry Trail) in its latest software developers manual PDF so it's likely that this is an existing Cherry Trail part that will end up as an Atom x3, 5 or 7.
Low-cost laptops aren't covered by the infographic so Braswell, the replacement for the current Baytrail-M range used in many Chormebooks and low-cost laptops could still continue with Celeron and Pentium branding.
Source: Intel