Pay attention mobile computing fan, because the Intel Atom X3, X5 and x7 are looking good! Intel have just released more details at MWC.
We heard about the new Intel Atom naming scheme last week and it was fairly clear that Intel would be using the new designations on the 14nm Cherry Trail range of processors. Those processors (Z8000-series) are actually going to slot into the x5 and x7 ranges with Sofia (C3000-series with integrated 3G and/or LTE) sitting in the Intel Atom x3 slot. While all 'x' ranges could include Windows products it's the x5 and x7 that will interest us more as the Cherry Trail architecture leans towards more productive, feature-full tablets and 2-in-1s. Intel have announced that 6 partners have products coming in the first half of 2015.
Here's a round-up of the product types that Intel are aiming at.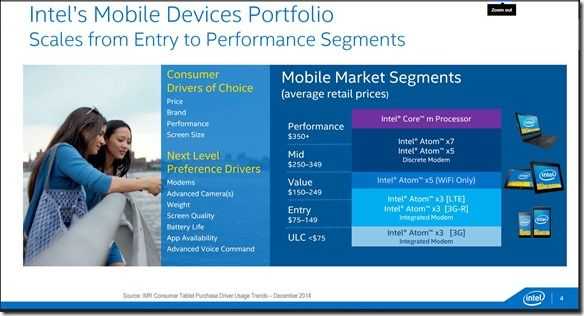 Intel has revealed today that Cherry Trail comes in three variants. The Z8700 series will fit into the x7 range as the performance option with Z8500 and Z8300 dropping into the middle-range.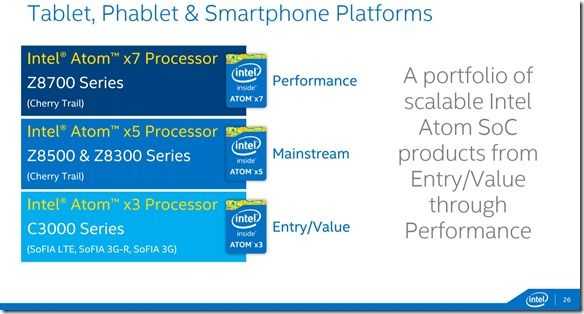 It's not clear if x7 will also include more features than x5 but if you look at the key features that Intel are highlighting on Cherry Trail it would make sense if x7 were to host them.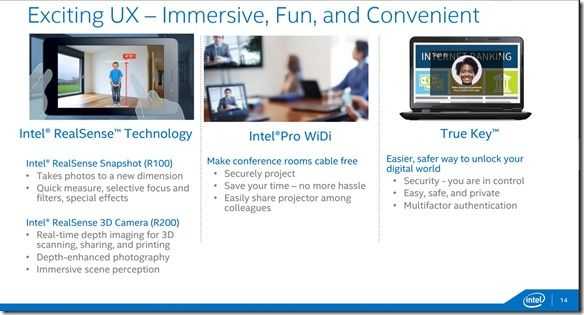 RealSense is going to appear in both R100 form (post-processed selective focus, special effects as seen in the Dell Venue 8 7000) and R200 with real-time depth imaging. Intel Pro WiDi is highlighted too which means business-class WiDi (with more security features) comes into the Atom range. True Key is a facial recognition security feature that we suspect is only enabled by RealSense. We'll check that for you over the coming hours and days.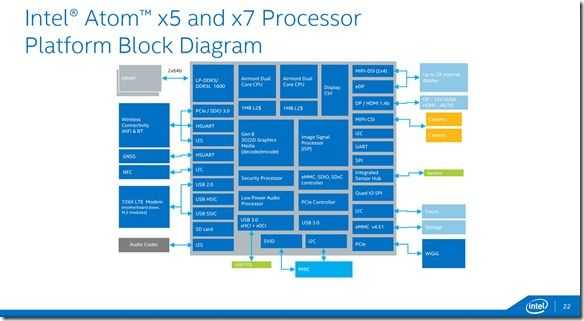 The x5/x7 block diagram shows us that we're still going to be stuck with eMMC as the storage interface but there's a new audio processor which should improve battery life on video playback as it does on Core M products. HDMI 1.4b (4K/30 fps) is supported as are internal displays of up to 2K resolution.
The GPU gets an upgrade to Generation 8 and it looks like we might be into smooth Minecraft territory…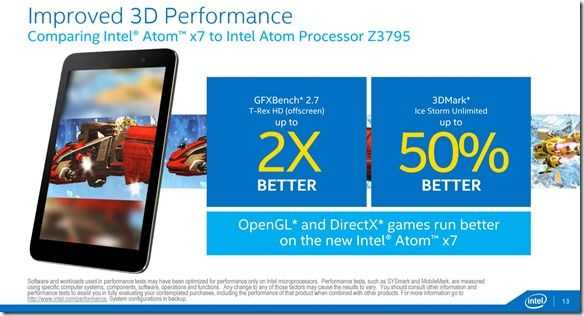 Those performance figures were based on the following products:
Intel Reference Platform: Intel® AtomTM x7-8700 processor 2.4GHz, 4GB LPDDR3-1600, eMMC, Windows* 8.1 64bit, Display: 8" 1920×1200, Battery assumption: 21WHr
HP* ElitePad 1000 G2 based on Intel® AtomTM Z3795 processor 1.59GHz, 4GB LPDDR3, eMMC, Windows* 8.1 64bit, Display: 10.1" 1920×1200, Battery: 30WHr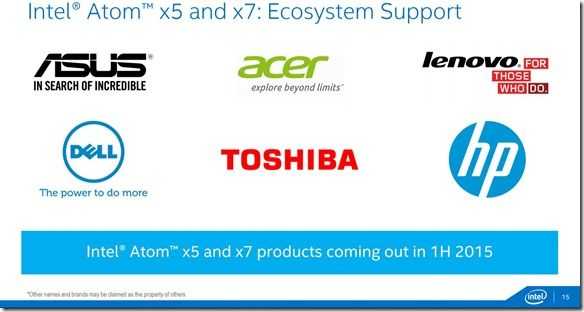 One the unanswered questions is battery life and TDP. We should be able to track that information down for you at MWC where we're expecting to get hands-on with one or two demo systems and maybe even a product from the vendors listed above. In the meantime, here's the round-up slide for Intel Atom x5 and x7: