The use of this Shutterstock image might have just landed ASUS in trouble and it might cost them more than the €79.50  it cost to download the image from Shutterstock.  While they're not in trouble with Shutterstock as far as I can see, they appear to have changed an image such that it misrepresents an Apple product. That's the last company you want to be doing that with!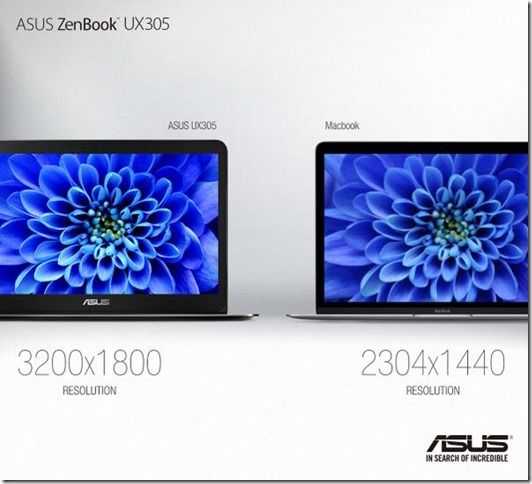 ASUS have been poking fun at the Macbook today. Actually, there's lots of that going on today (and this is the best one.) This twitter post might have gone one step too far though. The image sent out by ASUS on Twitter is modified by hand in my opinion as 1) there's little chance they got the two products side-by-side like this and 2) The image itself is rendering on my screen at around 90 pixels high. It's (near) impossible that you would see so much difference in sharpness at this resolution on two screens that have 30% difference in vertical resolution. I'm no imaging scientist but what about the color and dynamic range? That's not a function of screen resolution at all!
I might be wrong. ASUS might have the two products side by side right now and there could be this much difference, but I doubt it. If it is true, I'll happily correct or even take-down this post. (If this post disappears, you know what happened!)
I like ASUS products and the UX305 is an amazing bit of kit at a much lower price than a Macbook. I like the Macbook too. I also like banter on Twitter but I think ASUS just stepped over a line here, at least in some countries.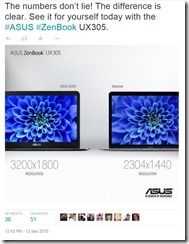 Yes, I may have also stepped over a line by reproducing part of a Shutterstock photo but I hope my intentions here do something to promote the image rather than abuse it.