The new Microsoft Universal Foldable Keyboard is tiny and desirable, but pricey. Here's my hands-on thoughts and video.

If there's one sub-thread that has existed throughout the last 9 years of UMPCPortal it has to be mobile keyboards. PDAs generated a reasonable market for folding, rolling, laser-projected and even fabric keyboards but it hasn't been until recently that the market picked up again with practical engineering, materials and features. I run a Microsoft Wedge keyboard across a number of tablets and am currently typing this article on a Type Cover with a Surface Pro 3. It's that Type Cover technology that appears in one of the lightest keyboards I've seen since my all-time favorite, the Samsung Q1 UMPC keyboard. The Microsoft universal folding keyboard is incredibly light and although it has a slightly split keyboard I like the layout.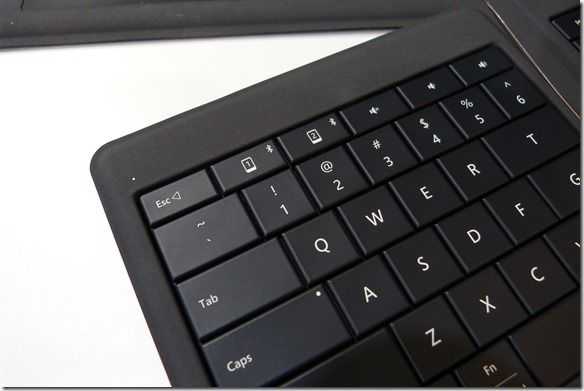 The key sizes are slightly smaller than you get on a Type Cover but not by much and there's dual Bluetooth connectivity option for switching between two devices. My guess is 120 grams in weight but I could be wrong. Microsoft haven't made the weight official yet.
What Microsoft have declared is an integrated a battery that lasts for three months, auto-shutdown on close, a spill-resistant design and a total height, when folded, of 11.5mm. Naturally, the Bluetooth HID profile support means it's going to work across many, many devices and that includes some of those old PDAs!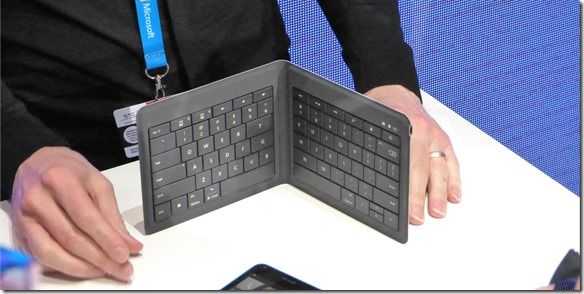 There's a problem though. Where simple portable Bluetooth keyboards start at around $20, this one is going to set you back just under $100. That's more than a low-cost Windows 8, 8-inch tablet PC!
Microsoft have a sales page up now. It's 'Coming Soon.'