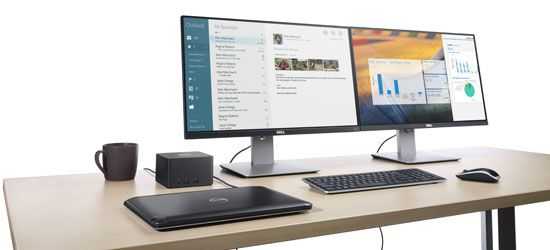 We first started reporting on WiGiG back in 2012 with a prediction that WiGiG 'docking' would be available in 2013. It was! Dell launched the Latitude 6430U in 2012 and a WiGig dock was available in 2013. It was a pre-spec WiGig however and when WiGig moved into the USB Alliance there was a long period where nothing happened. The next WiGig dock to hit the market was the HP unit that I checked out at CeBIT 2015. Today it's Dell's turn again and it looks like the wheels are rolling.  The Dell Universal Dock will be available starting April 30th for €329.64.
€329 is a lot of money (it's €267 pre-tax, $299 dollars in conversion, Norwegian price for model) and clearly this is aimed at businesses for now. It also requires the laptop to have the Intel Tri–Band Wireless–AC 17265 WiFi module. You'll find that as an option on some Dell Latitude models in the 5000 and 7000 range. What is gives you is a 'transparent' wireless display, USB and network connectivity. There should be no discernible difference between this and cabled solutions. At least that's the theory behind this 60 Ghz close-range wireless technology.
The big question is, can you bring in an HP WiGig-enabled laptop and use this Dell WiGi docking solution? At CeBIT this year I heard that there was a manufacturers 'lock' option which would prevent interoperability so I urge anyone that has the opportunity to test this to do so, and to let everyone know the result. This is important!
The other question is price. There's nothing in this docks that's expensive so if sales numbers rise, prices should drop and eventually match the prices of the DisplayLink docks that are available – currently around $150.
The Wireless Dock allows you to work more efficiently by powering up to two external displays (VGA, HDMI and mDP), keyboard, mouse, audio and other peripherals. The dock is equipped with two USB ports in front and three in the back to provide you the flexibility to work with as many devices as you need to manage your busy work flow.
Ports:
1 x display / video – VGA
1 x display / video – Mini DisplayPort
1 x audio / video – HDMI
2 x USB 2.0
3 x SuperSpeed USB 3.0
1 x network
Weight: 12.8 oz
References: Intel, Liliputing, Dell, Del, Dell Norway.