I'm just about to start reviewing the Ainol Mini PC, an Atom-based PC with an interesting feature. It has a battery included in the unit and because it supports Miracast it can run completely without wires.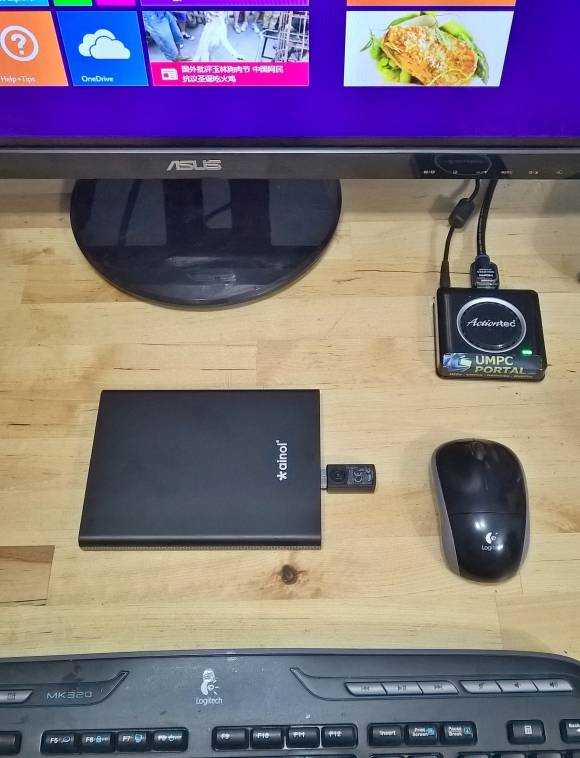 The Ainol Mini PC has triggered a few switches in my head as a solution for portable, secure computing or as an HTPC or presentation device. It's silent, it's compact and it can even charge a smartphone.. The embedded 13 Wh battery makes all the difference here and at $97 it's looking like a bargain.
The Ainol Mini PC has been sent to me [free with no obligation to return] from Gearbest which is a Chinese retail web operation. I have no experience with Gearbest apart from the quick and painless (the PC got through customs without any extra charges) delivery. Their contact with me via email was with good English too. I'll look further into their operation as I continue my review but let's get back to the Ainol Mini PC for the rest of this article.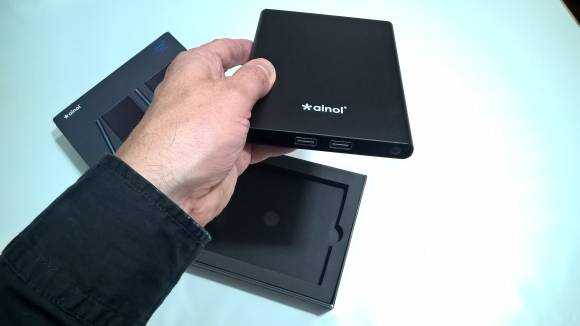 You'll be pleased to hear that this low-cost mini PC has 2GB of RAM and 32GB of storage. The Z3735F processor is one of the cheaper Atom Baytrail-M processors but it still offers interesting specifications and great video playback capability, Miracast support and TPM,  There's two USB 2.0 ports (full-size, not USB 3.0) and a Mini HDMI port, micro SD slot and a headset port. There's also a micro USB port.
The Micro USB port is listed as a USB 3.0 port on the photocopied 2-page 'manual' but that's not true. It's a USB 2.0 port that requires an adaptor. I wasn't able to charge the unit through this port, which is a real shame.
You can find Windows 8.1 tablet PCs with same size battery, the same total weight and with the included touchscreen for a similar price but you won't get the three USB ports, separate charging port and the HDMI port included.
Notes:
Device charging is only possible when the unit is on or in standby. (Connected Standby / InstantGo is supported.)
A Chinese version of Windows 8.1 was activated without problems but even though the English language pack was installed there are still Chinese characters to be seen in some menus and input fields.
As with most low-cost Windows PCs it's taking a long, long time to update, index and virus-check. Hours so far!
Update: 6th July: SecureBoot is not enabled by default in the (English language) BIOS by default. Turn it on and you get free disk encryption. (Bitlocker.) Connected Standby is also supported. I was able to stream music to Bluetooth headphones with no wires. [As every smartphone can…but it's an interesting demo of Connected Standby functionality.]
Stay tuned for more testing and a full review of the Ainol Mini PC. This could turn out to be a really interesting ultramobile PC. I'm interested to hear your ideas about how this could be used. Advertising screens, data collection, snooping, home theater, presentations? Let me know in the comments below.