Asus are showing a new netbook-style 11.6-inch laptop at Computex. The E202 has just been spotted by Mobilegeeks and not only do the specifications sound interesting but it looks great too. A 4GB version with Pentium 4-core Braswell-family processor was seen with a USB-C port. It's fanless and weighs just 1.2 KG. This could be the perfect entry-level, back-to-school laptop.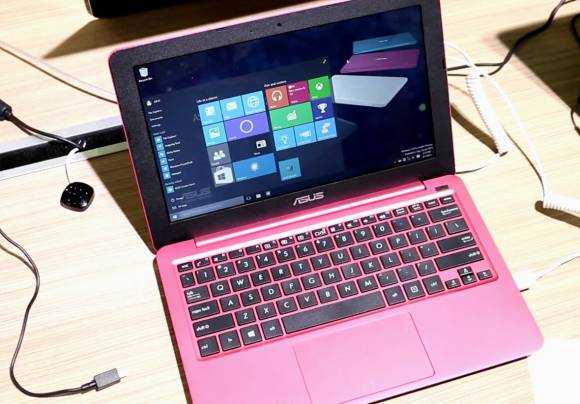 Asus Eeebook E202 specifications
Windows 10 64-bit
1366 x 768 TN LCD screen.
CPU: Up to Braswell Pentium N3700 (4 Core, 6W TDP)
RAM: 4GB (expect 2GB version)
Storage: 500GB hard drive
Micro HDMI, USB 3.0, USB 2.0, USB-C, micro SD
Wifi AC, Bluetooth 4.0
Maximum thickness: 21.4 mm
Weight: 1.2KG (2.65 pounds)
Features: Fanless.
The glossy screen is TN LCD (with good viewing angles but it's not IPS) and a 1366 x 768 resolution. Battery life is up to 9 hours which, given Asus' claim of 14 hours on the T100HA, should probably be cut by 30% to get a real-world figure. The relatively big trackpad was said to be 'quite nice actually' in the video so that's a good sign.
Port selection is good with USB-C and a full-size USB 3.0 and 2.0 port. Micro HDMI and Micro SD are also available. There's also a separate charging port which raises a question – can it charge through the USB-C port. We'll try and get the answer for you ASAP.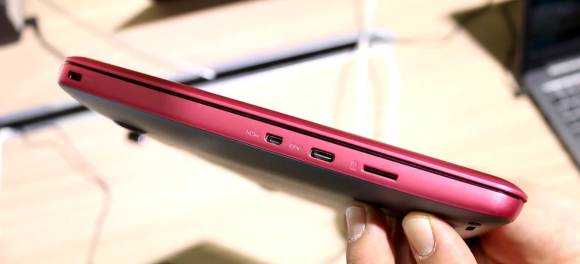 Expect entry-level versions of this, not necessarily with 4 GB of RAM and the 4-Core Pentium (2 GB / Celeron is more likely,) to come in towards $200 and we might even see this replacing the X205 Baytrail-T model with a 32 or 64 GB SSD version.  Version with Pentium and 4 GB are likely to head towards $300 but we haven't had any confirmation on pricing. Availability obviously follows Windows 10 general release in late July.
We've added screenshots from the video but check back later for better 'live' pics from Mobilegeeks.