Microsoft very briefly highlighted a new 9-inch HP Windows 10 tablet at their Computex keynote today.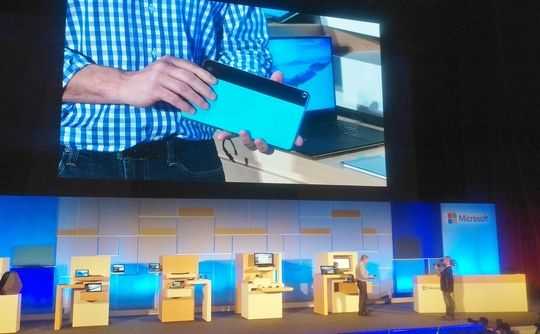 The tablet was shown very briefly along with the new HP Pavilion 10 X2 but there's not much information, or even images of it. HP call it 'revolutionary' in their blog, but that's about all they're saying.
Windows Central reported on their live blog that it's a 9-inch device that has a 'fullsize keyboard case.' I'm not sure about the 'fullsize' bit and not even sure why a revolutionary note-taking device needs a keyboard but it will become clearer as we track down new information. Windows Central also snapped this image but although it looks like 9-inch Windows 10 tablet, I'm not 100% sure if this is the one. It could be the new HP Pavilion 10.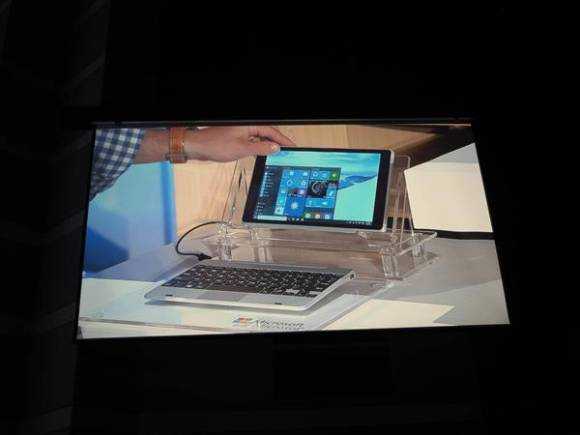 I noted that the design was similar to Intel's RealSense-enabled 'phablet' designs but that might just be a coincidence as there's clearly a webcam in the corner of the HP device. The RealSense modules aren't spaced out like that.
We can of course speculate that there's a pen involved somewhere (!) and that it's running on Atom X5 or X7.
It would be great to see another 9-inch option. Right now we only have the Toshiba Satellite Click Mini and it looks like the Asus Transformer Book T90 isn't happening. There wasn't a hint of it at Computex.