Intel's Wireless Display, a superset of the Miracast wireless display standard is going to get a boost with Skylake and an on-board real-time video encoder. It should improve latency and efficiency and Intel thinks it will be good enough to extend WiDi to wireless-screen gaming.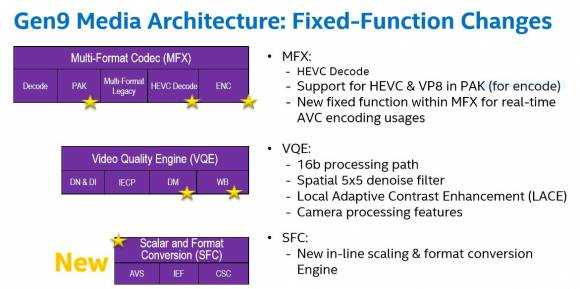 WiDi V3.5 currently supports up to 2560 x 1600 resolutions at 30 fps which is good enough for HD film casting but the latency often prevents other scenarios from being usable.  With the improved Gen 9 GPU on Skylake there's a new 'fixed-function' video encoder that will help reduce that latency issue. There's also going to be less load on the CPU and GPU which can be used for gaming. Intel demonstrated the latest Skylake-based WiDi at IDF this week – using latency and processor-critical gaming as the demo.
We don't know the technical details for the fixed-function encoder yet but one can assume that it's an H.264-only encoding engine with a lot of the options stripped out to make it more efficient. WiDi will move to V6.0 for Windows 10 and you can expect 4K output support with that.
Intel WiDi software downloads. WiDi Pro V6.0 now available for 4th-gen (Ivy Bridge) and later Intel Core CPUs including Core M.
Actiontec ScreenBeam Mini2 Wireless Display Receiver(SBWD60A01)
 supports WiDi.
Durgaprasad Bilagi explains the feature in the video below but doesn't give us any details about latency reduction which would be critical for gaming. Current WiDi implementations can get latency down to 50 ms and by cutting that in half it could be gaming-capable. If the FF mode reduces power usage that increases the power available gaming too.
https://www.youtube.com/watch?v=_647YUY5SJM
Fixed-function encoding will be available in Skylake-architecture processors which include U-Series Core i3, i5 and i7 and we expect to also be available on the next generation Core M processor.
For more on Skylake features, see this article.