I've just ordered a Windows 10 2-in-1 with Atom X5-Z8500, 4 GB RAM, USB 3.1 / USB C and 64 GB storage for 379 Euro. (Amazon Germany.) That's just under $350 in pre-tax USA pricing and having had some hands-on with the Transformer Book T100HA last week I'm confident that it's a bargain 2-in-1 and that it will be very popular this quarter, unless I find some gotchas.  The entry-level model with 32 GB storage and 2 GB RAM is being offered at just €309 –  $280 (pre-19% tax conversion.) My T100HA will be here in 5-6 days and yes, there will be plenty of coverage here at UMPCPortal.
Update: The delivery estimate went from 5-6 days to infinity and I haven't found an alternative retailer yet.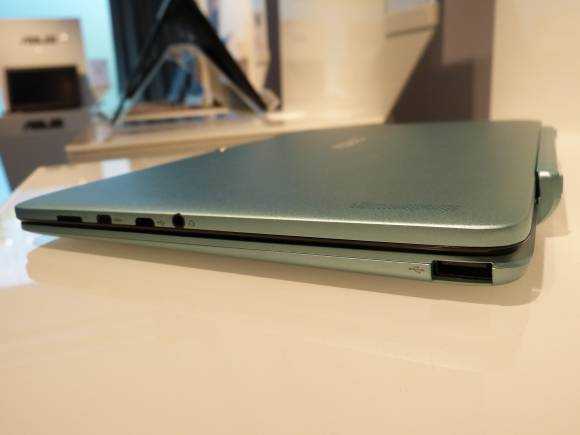 There are a number of reasons why I've bought the T100HA [specs here] but the screen isn't one of them. 1280 x 800 isn't my idea of high-end but it's enough for my testing plan with evolves around the Atom X5 Z8500 (mid-range, up to 2.44 Ghz) and USB C  / USB 3.1. Can the ASUS Transformer Book work as a tablet, laptop, blogging / travel PC and dockable workstation? My experience with a similar specification on the Lenovo Thinkpad 8 tells me that i'll have no problem getting through a day of blogging and image management. As for simple full-HD video editing, we'll see.
The 64-bit build and bootloader should be Linux-friendly but that's something I'll test too.
Total weight is 1KG / 2.2 pounds and there's a 30 Wh battery inside. I don't expect more than 6 hours of WiFi-on productivity but video playback efficiency should be better than on 2014-2015 10-inch Windows tablets.
I'll also be testing the new Gen 8 HD Graphics GPU as the 3D performance should be way ahead of Baytrail-T Gen-7 GPUs. Quick-Sync video encoding should also get a boost and could enable a smoother Full HD video editing experience.
It doesn't look like the ASUS T100HA is up for pre-order in the USA yet but if you spot it, please drop a comment for the readers below.
In the meantime, watch my hands-on at IFA last week. FOr my Germany readers, check the T100HA link on the right here. (Aff. link)