The usual suspects got their Surface Pro 4 devices before anyone else and have been allowed to publish their reviews. I think you can skip many of them to be honest but one stands out. No, it's not my review (I was 6 months behind the curve with my Surface Pro 3 review,) it's the Anandtech review. It's jam-packed with good information.
I've spent that last hours reading through and between the lines of some the Surface Pro 4 reviews and it's a good story all-round. No, the Surface Pro 4 isn't any more lappable than the Pro 3 (which might bring the ASUS UX305LA into the running for you.) The WiFi is still the same Marvell unit as found in the Surface Pro 3. (No Intel WiDi. Spotty performance for some, depending on drivers) and there's still just the single USB 3.0 port and Mini DP port. Battery life doesn't improve either and although we're still talking about 6 hours video playback, there are PCs out there with longer battery life, although not with this level of processing power, admittedly.
That processing power is the key feature here and not only is the Skylake generation bringing in 20-30% improvements on short-term loads you've got a redesigned thermal solution that's letting it run at full power for longer.  There's a fanless option with the Core m3 entry-level mopdel and at the high-end of the rage you'll get the GT3e Iris Graphics. I haven't seen either of these reviewed yet.
The Surface Pro 4 doesn't come with a keyboard but you'll probably want to buy the Type Cover because it's good.
The Type Cover costs $130 and given the processing power available the average customer is likely to want 8GB of RAM. The Core i5 version with 8 GB RAM costs $1299. That's nearly $1430 including the keyboard. That's a lot of money considering something like the ASUS Transformer Book Zenbook UX305LA with the Broadwell Core i5, 8 GB and 256 GB comes in at $749.99 today on Amazon, and that's with the keyboard!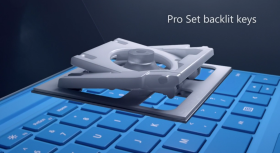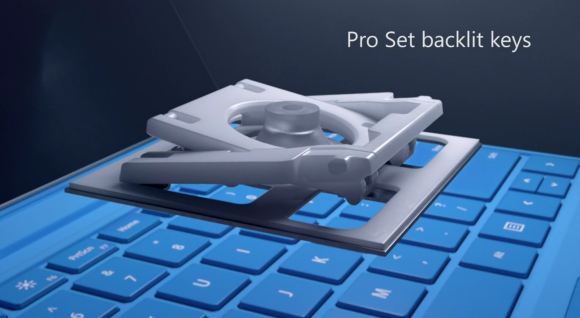 The Surface Pro 4 includes a digitizer. N-Trig technology gives you 1024-levels of pressure sensitivity and exchangeable tips. There's tight integration between digitizer, pen and OS too so latency is reduced compared to the Surface Pro 3.  The stylus is a big part of the Surface Pro 4 experience for some, but adds nothing for others. I use my Surface Pro 3 pen for demonstrations more than I use it myself, for example.
The Surface Pro 4 uses an IGZO screen, apparently made by Samsung under license from Sharp. I have an IGZO panel to the right of me now (HP Pro Tablet 608 G1) and it's a very high quality panel indeed. The measurements for the screen that I've seen so far are excellent in terms of brightness, color coverage, accuracy and contrast. There's also a very low minimum backlight level which is great for those that use their tablets in the dark. Note that the Core i5 version is being reported as silent for most operations by Anandtech.
The PCIe-connected SSD is fast. Really fast. It's 100 X faster on 4K write speeds than the new HP Pro Tablet 608 G1 (Atom X5) I've been testing. 3 X faster than the already excellent sequential read speeds on the UX305LA. It's scorchingly fast!
Surprises?
There are a some reports of instability which doesn't surprise me as the new platform, new OS and new drivers are bound to have bedding-in problems. I've read one report that Modern Standby is draining too much battery. (Surprise surprise.)
Target customer.
With this level of screen quality on the Surface Pro 4 one can easily see designers, photographers and videographers wanting to use it. Transferring data over USB 3.0 is going to be very fast if you're using a fast storage medium. [See: MyDigitalSSD OTG USB 3.0 SSD review.] For OneNote fans, this is the best PC you can buy.
The Core i7 version might work for medium-level PC gaming although not as a dedicated gaming solution. Commuters aren't going to be impressed with the relatively low battery life – a Samsung Galaxy Tab S2 10 LTE is going to be a better, cheaper option if battery life is important.
For students there's a lot of flexibility in the Surface Pro 4 but it comes at a price. The ASUS UX305LA or Dell XPS 13 would probably be the better choice here. Those that aren't sure about the pen-enabled 2-in-1  form factor should take a look at the Acer Aspire Switch 11V first. It might be worth getting that first to see if you like the form factor although you won't be getting anything like the build quality of the Surface Pro 4.
Surface Pro 4 Core m3 and Core i7 reviews.
The Core M3 and Core i7 versions haven't been reviewed yet and I expect to see big differences on the performance. Battery life probably won't change much until you get to high load comparisons like video rendering or gaming. In both of those cases you'll be trading speed for battery life though.
A selection of reviews have been added to the Microsoft Surface Pro 4 specs, info and review page.
Surface Pro 4 Performance. Here's the thing…
Microsoft's Surface Pro 4 not only increases processing and graphics performance by a good margin, it also improves long-term performance. I recently demonstrated the effect of that in a comparison of the Surface Pro 3 and the ASUS UX305LA. The Pro 3 throttled after 5 minutes of rendering where the UX305LA (Core i7) kept on rendering at full speed – effectively saving 30% of my time over a 10 minute render. For an hours rendering the latter would have been nearly 100% faster, saving lots of time. The video is embedded below.